Absent dinner, drinks and Hollywood swells, it's just one big golden glob
01/14/08 08:24 AM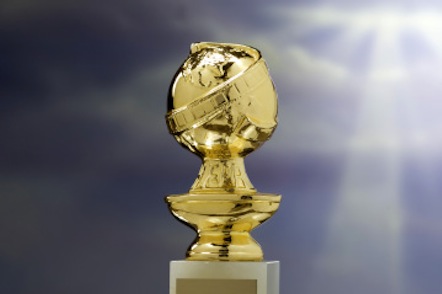 The Golden Globes had no pickup lines Sunday night.
By ED BARK
The Hollywood Foreign Press Association's 65th annual Golden Globes presentation came and went with all the flash and excitement of a colonoscopy Sunday night. And that's a charitable assessment.
Absent winners, losers, dinner, drinks, fashion statements or even a streaker, the awards were announced at an HFPA press conference televised live by E! and very oddly on NBC.
Fittingly, the first award went to Cate Blanchett as one of several Bob Dylans in
I'm Not There
. Which of course she wasn't. Here's
who else won
if you haven't already lapsed into a coma.
E! carried the half-hour presentation live from 8 to 8:30 p.m. (central), with periodic segues to studio host Ryan Seacrest. NBC padded its coverage to a full-hour, meaning that its announcement of the climactic "Best Motion Picture" award (for
Atonement
) came a half-hour after E! put it out there.
Peacock hosts Billy Bush and Nancy O'Dell, from
Access Hollywood
, anchored NBC's
Golden Globes Winners Special
live from a satellite studio. They of course neglected to tell viewers that in reality they were well behind the times. Better to test the "psychic ability" of guest commentator Dave Karger of
Entertainment Weekly
, who was asked to predict the best picture winner. He narrowed it down to a final two that included
Atonement
. Atta boy.
Karger probably didn't sneak any peeks at the previous E! telecast, but who really cares if he did? It's a helluva situation when the biggest star among a small handful of official press conference presenters is Mary Hart of
Entertainment Tonight
. She sure acted thrilled to be there, though. Ick.