BBC America's exemplary The Hour has a 60 Minutes air in a Cold War era miniseries
08/15/11 10:06 AM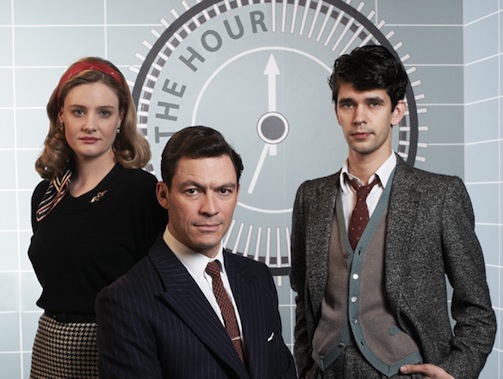 The Hour stars Romola Garai, Dominic West, Ben Whishaw. BBC photo
Premiering:
Wed., August 17th at 9 p.m. (central) on BBC America
Starring:
Dominic West, Romola Garai, Ben Whishaw, Anton Lesser, Julian Rhind-Tutt, Oona Chaplin, Anna Chancellor, Joshua McGuire
Created and written by:
Abi Morgan
By ED BARK
Intelligent, suspenseful and stylish through and through,
The Hour
has just one shortcoming.
BBC America didn't send enough episodes. Four of the six were made available for review and devoured in one sitting. So the central mysteries of this mid-1950s period piece are still very much at large for everyone except those who watched
The Hour
during its earlier United Kingdom airing.
It's hoped that creator/writer Abi Morgan will prove adept at resolving everything satisfactorily. If so, this is one of the best drama series of the year. And even if not, the acting and atmospherics have been quite something to see so far. Pip pip and bravo, too.
The Hour
also is the name of a
60 Minutes
-esque TV news magazine that's launched in 1956 as a dig deep alternative to the generic newsreel programs of the day.
Producer Bel Rowley (Romola Garai) and lippy, temperamental reporter Freddie Lyon (Ben Whishaw) have worked together on the stuffy old predecessor while also being close but platonic confidants off-screen. Freddie, a young wisp of a man, aspires to anchor "The Hour," which Bel has been picked to produce. But the position instead is given to the square-shouldered and more mature looking Hector Madden (Dominic West from HBO's
The Wire
). An unwieldy triangle emerges, with a jealous Freddie playing hard to get before finally signing on near the end of Wednesday's opening one-hour episode.
"I'm looking forward to working with you," Hector tells him.
"At least that makes one of us," Freddie jabs back.
The fits and starts of getting the new program off the ground are intercut with Freddie's dogged investigation of what he believes to be two murders -- of a highly regarded academic and a young woman named Ruthie (Vanessa Kirby) whom he used to know as a kid. Before her demise, she re-establishes contact with Freddie and whispers, "They will kill me if they know I'm talking to you."
But who are "they?" Might they be Cold War era spies or sinister members of the British government? Is there another network out there besides the BBC, which carries "The Hour?"
Freddie's detective work, which perhaps fittingly includes the bribing of a cop, continues apace while Bel and the married Hector are growingly attracted to one another. The real-life
"nationalization" of the Suez Canal Company
by Egyptian president Gamal Abdel Nasser is also part of the plot. "The Hour's" up-to-the-minute reporting of the crisis puts it at odds with the British government, which along with France is the principal shareholder in the Canal.
This all sounds like a pretty dense thicket, and it's true that close attention should be paid. But the story unfolds clearly if sometimes leisurely while the performances, particularly by Whishaw, grow stronger by the hour. He's cocky but thoroughly winning, never more so than when asking/telling one of his middle-aged bosses, "Do you want to die knowing you're always a 'yes man?' "
Viewers craving a satisfying gourmet meal rather than another summertime "reality" Moon Pie are urged to make
The Hour
a Wednesday night ritual for the next six weeks. The only caveat is whether it will all come out plausibly in the end. At the two-thirds mark, all systems are go.
GRADE:
A (based on the first four episodes)