The CW takes a more "mature" approach with British import Dates
07/07/15 10:43 AM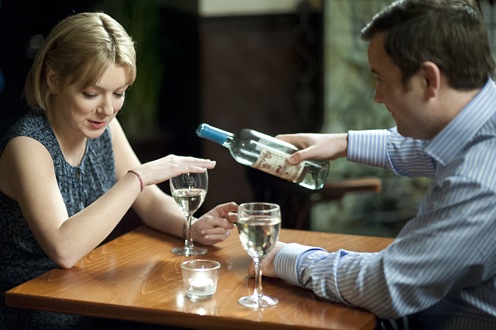 Pouring out some feelings in the "Jenny and Nick" episode of Dates.
CW photo
Premiering:
Thursday, July 9th at 8 p.m. (central) on The CW
Starring:
A variety of British actors/actresses, with recurring appearances by Oona Chaplin, Will Mellor, Sheridan Smith, Ben Chaplin, Gemma Chan
Produced by:
Bradley Adams, Chris Clough, Harry Enfield, Bryan Elsley
By ED BARK
@unclebarkycom on Twitter
Daring to range outside its 18-to-34-year-old target demographic, the CW network continues to invite praise instead of ridicule with the summertime British import
Dates
.
The recently ended "regular season" brought CBS' little sister network the best critical reviews in its history for
Jane the Virgin, The Flash
and
iZombie
. All are aimed directly at younger audiences and will return for sophomore seasons.
Dates
, a nine-episode scripted series with a more "mature" character base, could just as easily air on BBC America, Lifetime or even PBS. It's not a game-changer or first-rate through and through. But it is an interesting and very nicely acted look at online daters meeting for the first time. There are nine half-hour episodes in all, with the first two premiering on Thursday, July 9th.
Episode 1, subtitled "David and Mia," ends by leaving viewers hanging. In that context, it's instructive to know that Mia (Oona Chaplin) will return in Episodes 3, 7 and 9 while David (Will Mellor) re-enters in Episode 5 before getting back with Mia in the Season 1 finale. It's all set in London and created by Bryan Elsley (the controversial
Skins
).
Mia first makes the scene as "Celeste," who scopes out David at a bar-restaurant and initially decides he's not for her. She denies being Mia when he approaches her, but offers what appears to be a parting shot: "Just don't wear the tie with the jeans. It makes you look like a Belgian."
But the mismatch evolves into a sparring match, with David now trying to blow her off and have his scallops in peace after seeming to canoodle just a wee bit with a young waitress. This makes Mia both intrigued and jealous. Saying much more would compromise the little twists and turns. Let's just say that Chaplin is a knockout, both looks-wise and with her performance.
Episode 2 gives Sheridan Smith an opportunity to shine as a jilted grade school teacher named Jenny. She meets divorced stock trader Nick (Neil Maskell) in a bar for their first date. Sparks aren't flying, but she grows more interested in him. Wine will do that. Both have an undivulged secret, though. Hers remains safe from him but she ends up uncovering his. This one ends Nick's storyline, but the character of Jenny will return in Episode 8.
This is all assuming that The CW will air all 9 episodes of
Dates
, which will be tasked with recruiting an "older" audience in this instance. The series likely will come off as kind of icky and ancient to teens and twentysomethings. Sort of like encountering reruns of
Matlock
on MTV. But for adults of a certain age -- let's say mid-30s and upward --
Dates
might well have considerable appeal. Hey, all they have to do is find it.
GRADE:
B-minus
Email comments or questions to:
unclebarky@verizon.net