CBS' Madam Secretary could use a bigger jolt of political theater
09/19/14 09:21 AM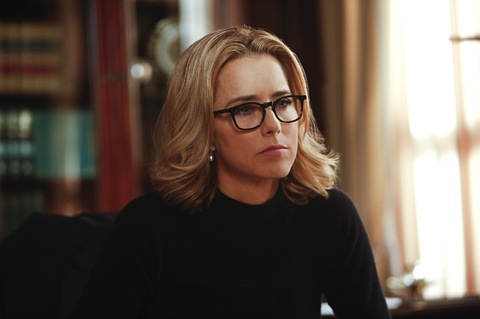 Tea Leoni yearns to effect change in Madam Secretary. CBS photo
Premiering:
Sunday, Sept. 21st at 7:30 p.m. (central) and repeated at 9:30 p.m. (central) on the same night
Starring:
Tea Leoni, Tim Daly, Bebe Neuwirth, Zeljko Ivanek, Keith Carradine, Geoffrey Arend, Patina Miller, Erich Bergen
Produced by:
Barbara Hall, Lori McCreary, Morgan Freeman, Tracy Mercer, David Semel
By ED BARK
@unclebarkycom on Twitter
Any comparisons to Hillary Clinton should begin and end with Tea Leoni's preference for pantsuits as Secretary of State Elizabeth McCord.
Otherwise it's a big stretch. The dedicated protagonist of CBS'
Madam Secretary
is a former CIA agent and mother of two opinionated kids whose husband Henry (Tim Daly) seems to be about as perfect a spouse as Bill Clinton hasn't been. Besides that, he teaches religion at Georgetown. And whispers sweet nothings such as "I love women in power positions."
Comparisons to
The West Wing
are more apt, although
Madam Secretary
doesn't look as though it will have the heft to play at that high level.
Sunday's premiere episode quickly sets the stage for Elizabeth's ascendance. She's happily teaching at the University of Virginia -- and turning down a student's plea for an assignment extension -- before word comes that the secretary of state's plane has gone down abroad. The next morning at the busy McCord household, her mentor, President Conrad (a recurring Keith Carradine), pops in to pop the question. He recruited her for the CIA and now wants her to step in as secretary of state.
"You don't just think outside the box. You don't even know there is a box," the prez says before adding with an equally straight face that he's determined to preside over "real change" in the world with Elizabeth as his point woman. The viewing public has long stopped believing that.
Two months later Elizabeth is on the job. And in an amazingly timely story line, she must deal with Syrian terrorists who vow to execute two college age brothers taken hostage unless their demands are met. "Ultimately they want us to call off the peace talks," Elizabeth says.
Her chief of staff, tart Nadine Tolliver (Bebe Neuwirth), spreads warmth by dubbing this "Operation Stupid Kids." Meanwhile, the president's blunt-spoken chief of staff, Russell Jackson (the ubiquitous Zaljko Ivanek), warns the new secretary of state that she'd better not try to do any end runs around him. The upshot in his view: if the kids have to be sacrificed, so be it.
It's enough to make an idealist tell her hubby in bed that the president "told me that we could affect real change in the world. That's what I signed up for." They then kiss and proceed further.
Elizabeth eventually gets the OK to go through back channels in an effort to obtain the brothers' freedom. This is all pretty murky and without much dramatic punch.
By the way, the king of Swaziland and his 10 wives are scheduled to visit in the midst of all this. Can Elizabeth learn all of their names in time while also pushing her agenda to combat an AIDS epidemic in Swaziland?
Madam Secretary
also raises the specter that the previous secretary of state's plane crash death was no accident. To be continued.
Leoni is fine in the title role and Daly is thoroughly dutiful as her heaven-sent husband. But the accomplished Neuwirth is little seen in the first hour while Ivanek is getting stuck in a rut of playing basically the same character over and over.
What's missing from
Madam Secretary
is an overriding reason to keep watching. Nothing really crackles so far, as it did with Netflix's
House of Cards
. Instead we get boiler plate dialogue in abundance, with Elizabeth telling the president at one point, "This is a risk you cannot afford not to take." And the president replying, "You'd better be right about this."
Better to have made Elizabeth McCord much more of a Hillary knockoff with a husband whose eyes often are on other prizes. Now that's entertainment.
GRADE:
C+
Email comments or questions to:
unclebarky@verizon.net