USA's Graceland has no Elvis in its building
06/06/13 01:02 PM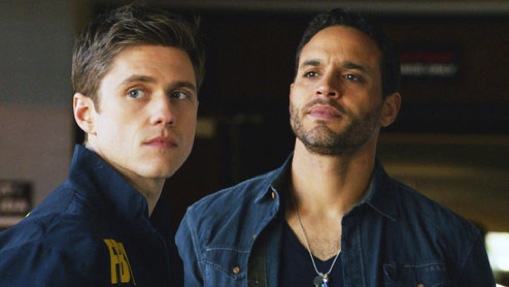 Aaron Tveit and Daniel Sunjata head cast of Graceland. USA photo
Premiering:
Thursday, June 6th at 9 p.m. (central) on USA
Starring:
Daniel Sunjata, Aaron Tveit, Vanessa Ferlito, Manny Montana, Brandon Jay McLaren, Serinda Swan
Produced by:
Jeff Eastin
By ED BARK
@unclebarkycom
USA's latest "Characters Welcome" drama has a
Real World
motif with its collection of young, handsome or pretty (or both) federal agents sharing a multi-storied, beachfront Southern California pad.
The place used to be inhabited by a drug lord with a "hard core" love of Elvis. So its bantering/sniping inhabitants dub it Graceland, which also just happens to be the name of this new, not-so-hot series from the creator of USA's
White Collar
.
Graceland
supposedly is "based upon actual events." That's because, once upon a time, the U.S. government actually did plant a group of agents in an undercover residence for the purposes of stinging drug dealers.
Paired with the launch of
Burn Notice
's final season, Thursday's extended premiere episode (running until 10:15 central time) otherwise depicts the thoroughly fictional exploits of taut-talking, hard-driving, not entirely forthcoming team leader Paul Briggs (Daniel Sunjata) and five others under his wing. There's also a chore list posted in their communal kitchen, with the food and drinks labeled to ensure a little extra added friction when someone poaches on someone else's stuff.
The obligatory tenderfoot is cute, brainy Mike Warren (Aaron Tveit), who graduated top of his class at Quantico before arriving at Graceland to initially be gruffly treated until he earns his spurs.
But agent Catherine "Charlie" Lopez (Vanessa Ferlito) grows friendlier and more supportive before the others fall in line. She's the one who gives Warren the lowdown on the somewhat legendary Briggs. He used to be "buttoned-down," you see. But then "somethin' went down, he took a leave of absence, came back all Zen'd out like that."
Charlie also informs the newbie that "you're gonna find out fast there are no secrets at Graceland."
Except for Briggs, he adds. Yep. Got that right. Kid learns fast.
Shop-talk lingo such as "booger sugar" and "running a reverse" are sprinkled in before the talky buildup finally gives way to Warren's first undercover assignment. It's convoluted to say the least, with a ding-dong buyer named Felix the initial mark before far bigger danger lurks when Warren's planted in the midst of nasty Russian mobsters operating out of an auto repair garage.
Posing as Felix's brother-in-law, a wired Warren first gets a jagged scar that's quickly painted above his left eyebrow by the multi-talented Charlie. Cripes. Really?
Meanwhile, back at the team's eavesdropping command center, the dialogue deteriorates to clunky when Warren starts to improv.
"Where's he goin' with this?" wonders fussy Gerry Silvo, a recurring member of the federal brass played by Jay Karnes (who once knew the far greater glory of
The Shield
).
"I wish I knew, boss," Briggs replies.
Charlie is soon left to mop up. "The new kid, he's smart," she says approvingly when the Russians start playing along. Thud.
Graceland
ends with a twist that really isn't much of a one for those who've seen enough of these infiltration devices. It gives this series a week-to-week serial thread -- albeit a frayed one -- in a drama "where nothing is what it seems and everyone has a secret," according to USA publicity materials.
In the spirit of all its telegraphed punches, I'm just gonna go ahead and say it.
Graceland
is nothing to get all shook up about.
GRADE:
C
Email comments or questions to:
unclebarky@verizon.net