Doll & Em is too much of a trinket for HBO
03/18/14 11:21 AM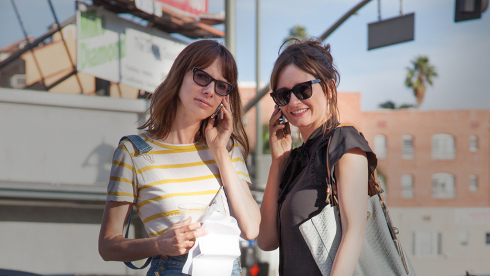 Dolly Wells & Emily Mortimer of Doll & Em. HBO photo
Premiering:
Wednesday, March 19th at 9 p.m. (central) on HBO with back-to-back episodes for three Wednesdays
Starring:
Emily Mortimer, Dolly Wells, with cameos by Susan Sarandon, Chloe Sevigny, John Cusack, Andy Garcia
Produced by:
Andrew Eaton, Lucy Lumsden, Emily Mortimer, Dolly Wells, Azazel Jacobs
By ED BARK
@unclebarkycom on Twitter
HBO's slim, trim shooting budget for the short-run series
Doll & Em
probably wouldn't get the network's big, sprawling
Game of Thrones
through even a single day of filming.
Billed as a "semi-improvised comedy" that in fact lapses into too much drama, it's getting what amounts to a Wednesday night afterthought slot for a three-week run of six half-hour episodes. There's some enjoyment to be had from the lead performances of real-life best friends Emily Mortimer (
The Newsroom
) and Dolly Wells (
Bridget Jones's Diary
). A brisk walk would be better for you, though.
Mortimer plays London-born actress Em, who's prepping for a Hollywood movie when the sobbing Doll calls from abroad after her boyfriend breaks up with her. So Em flies Doll in and commiserates before hiring her as a personal assistant. The first of Wednesday's two episodes moves along sluggishly on this front before the second picks up a bit at a pre-production party featuring appearances by Susan Sarandon and Chloe Sevigny.
Sevigny, whose new series
Those Who Kill
was
yanked by the A&E network
after just two episodes, makes no lasting impression at all in either the second or fourth episodes. But Sarandon registers as the protective, demanding mother of a kindergarten age boy who initially upbraids Dolly but later mellows out while they jointly smoke some pot.
John Cusack and Andy Garcia also play themselves, the latter to good effect in Episode 5. And Bradley Cooper is part of the opening credits. He's standing with Em on the red carpet of the Independent Spirit Awards when she gets the distress call from Doll.
Meanwhile, Em and Doll's misadventures and misunderstandings never quite get rolling. And the movie Em is starring in, titled "Valerie Lee," seems to have the laziest shooting schedule in the history of filmdom. Not that we ever really know what it's about. For the most part, Em is merely made to feel inadequate by a diminutive director named Mike (Aaron Himelstein). But Doll's star is rising, particularly after she weeps uncontrollably as an extra at a funeral service where Em can't quite summon the tears.
It's all very familiar turf. The underling becomes something of the overlord while feelings are bruised and tempers fray. All of which turns
Doll & Em
into a non-comedy by the end of Episode 5. It wasn't all that amusing anyway.
Whether improvising or following the script, Mortimer, Wells and Azazel Jacobs are credited with writing all six episodes. All except Episode 5 end with the song "Why Can't We Be Friends?" by War.
The overriding question, though, is "Why couldn't this be better?"
Doll & Em
instead comes off as a mis-firing vanity project that seems to be too much of a trifle to merit HBO's oft-rarefied air. Shuffling it off to Wednesdays seems to be the network's way of acknowledging as much.
GRADE:
C
Email comments or questions to:
unclebarky@verizon.net