7th Heaven reaches prime-time's pearly gates
05/11/07 02:33 PM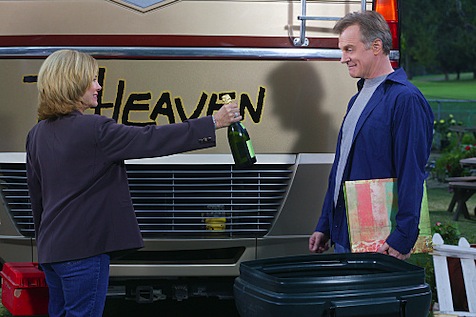 Annie and Eric Camden (Catherine Hicks, Stephen Collins) prepare to christen their land-lubbing ark on Sunday night's 7th Heaven finale.
By ED BARK
Resurrected from cancellation last season,
7th Heaven
unequivocally leaves the prime-time firmament Sunday night after one of the more wholesome runs in TV history.
Birthed during the second year of The WB network, it rose from those ashes to see the dawning of The CW. Sunday night (May 13 at 7 central) marks the end, though, with the reliably virtuous Camdens of Glen Oak, CA crowding into a giant-sized RV and happily heading for parts unknown.
"Today's the first day of the rest of my life," minister Eric Camden (Stephen Collins) says before giving it the gas at finale's end.
It's been quite a ride -- 11 seasons to be exact. That makes
7th Heaven
the longest-running family drama ever, outdistancing both
The Waltons
and
Little House on the Prairie
.
"The basis of all life across the globe is family. It doesn't have to mean it's sort of sappy and stupid," co-star Catherine Hicks (Annie Camden) says in a teleconference.
Both Hicks and Collins say their show has never been "primarily religious," despite its title and church setting. Nor was it
Melrose Place
or
Beverly Hills, 90210
, which the late Aaron Spelling also created during his latter years as Hollywood's most prolific TV producer.
7th Heaven
is the last ongoing series to bear the Dallas native's name, and its finale is "In Memory" of him.
"He was very proud of the show, and I was thrilled when he went on record and said it was his favorite show," Collins says.
Actually, Spelling said the same about a lot of his creations, but may have had a particular soft spot for the one that ran longer than any of them. Not so The WB, which always tended to treat
7th Heaven
as an interloper amid magazine cover-ready darlings such as
Dawson's Creek, Felicity, Smallville
and
Buffy the Vampire Slayer
.
"We used to get so ticked off," Hicks says after unclebarky.com raises the question. "We kept the WB alive, you know, and we'd get like crappy little cupcakes at Christmas."
Collins recalls those "big, mammoth pictures of (
Buffy
star) Sarah Michelle Gellar" at WB parties, with
7th Heaven
tucked into a corner someplace.
"On the other hand, we definitely got used to it," he says. "Richard Thomas (star of
The Waltons
) told me, 'Don't ever expect to get a lot of publicity from this. The media in general just never know quite what to do with a family show. They never know how to find the angle.'
"We would lead the WB in ratings," Collins adds. "And then you'd pick up something and read, '
Buffy
' saves The WB.' We called it being 'Rodney Dangerfielded.' "
Hicks says she's already shopping for new roles. "It takes scrounging, and I'm in the mood to scrounge."
Collins lately is doing a guest shot on the FX comedy
It's Always Sunny in Philadelphia
.
They'll always be Annie and Eric Camden, though, to millions of
7th Heaven
stalwarts.
"I feel sorry for the audience, because they really want it," Hicks says.
"I think it's going to kind of hit me in the summer that it's over," says Collins.
It's kind of like Purgatory. But that'll pass.