TV THEME SONG-ville -- Season Finale
09/03/10 12:11 PM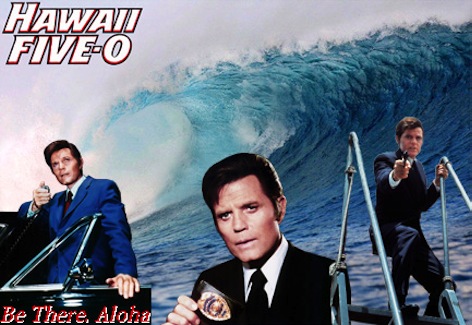 By ED BARK
For our final pre-fall season installment, we take a return trip to Jack Lord's hair and the ever-pulsating theme song for
Hawaii Five-0
.
As you no doubt know by now, CBS is remaking it this season, with Alex O'Loughlin in Lord's signature role of Det. Steve McGarrett. It'll premiere on Monday, Sept. 20th in
CSI: Miami
's old slot.
The producers will be reprising the famed
Five-0
mood music, but in shortened form, of course. Broadcast networks are loathe to let a theme song play out for fear that restive viewers will migrate elsewhere. They're wrong, of course, but audience research supposedly shows otherwise.
Watch for the classic Lord whirl-around in this original one-minute intro.
Hawaii Five-0
ran from 1968-80 on CBS. Its theme music is by
Morton Stevens
.