Bare essentials: Epix's Filthy Gorgeous documentary spotlights Penthouse founder Bob Guccione
11/07/13 09:31 AM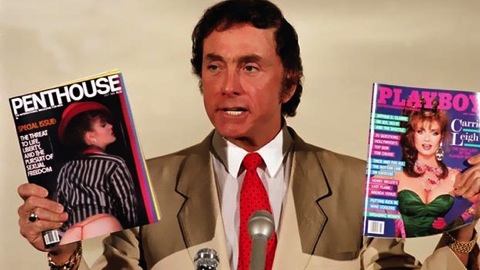 Bob Guccione pitted his Penthouse against Hugh Hefner's Playboy.
Epix photo
By ED BARK
@unclebarkycom on Twitter
Much suaver than Larry Flynt but far less iconic than Hugh Hefner,
Penthouse
magazine founder Bob Guccione ranks somewhere in the middle of America's foremost 20th century flesh peddlers.
Wear rose-colored glasses and you also could view them as brave fighters for the inalienable First Amendment right to print pictures of nude, voluptuous women.
Flynt received star treatment in 1996's
The People vs. Larry Flynt
, with Woody Harrelson in the title role. Hefner continues to make news whenever he adds or subtracts a new girlfriend or wife. Guccione, who died at age 79 in 2010 after squandering much of his fortune, gets a posthumous spotlight in the Epix network's
Filthy Gorgeous
. The 90-minute documentary film premieres
Friday, Nov. 8th at 10 p.m. (central)
.
It's quite watchable, and not only for the abundant nudity permitted on a non-advertiser supported "premium" channel. Guccione, draped in chains and topped with a variety of toupees, cut a cocksure figure while also talking a very good game. One upon a time he studied to be a priest, "but I got over that."
When he took on
Playboy
in 1969 -- "We're going rabbit hunting," said a
Penthouse
ad -- Guccione compared it to "Hannibal attacking Rome." Confounding all odds,
Penthouse
caught
Playboy
a decade later in both revenues and sales.
Filthy Gorgeous
, directed by Barry Avrich (
Unauthorized: The Harvey Weinstein Project
), includes the authorized participation of his two sons, Bob Jr. and Nick.
"He understood that men wanted the guilt veil lifted off of them," says Bob Jr., who had an 18-year estrangement from his father after he demanded to go it alone as the publisher of
Spin
magazine. According to Bob Jr., they reconciled six years before his death and became close again.
Guccione's youngest son, Nick, is less a part of
Filthy Gorgeous
. But he has one line that won't sit well with the Plano Chamber of Commerce. Remarking on his dad's death of cancer on Oct. 10, 2010, he speaks with disgust of a "crappy little hospital in Plano, which is in the middle of nowhere if you ask me."
For the record, it was Plano Specialty Hospital on the outskirts of Dallas. Hardly the hinterlands, but Podunk compared to Brooklyn, where Guccioni was born with the elongated name of Robert Charles Joseph Edward Sabatini Guccione. His fourth wife, April Dawn Warren Guccioni, was born in Plano. So that's how they ended up there during the waning stages of his life.
Under Guccione's direction,
Penthouse
became a magazine best known for showing female pubic hair (
Playboy
later followed suit) and for printing pictures of Vanessa Williams' previous nude photo shoot after she was crowned the first black Miss America in 1984. It led to her ouster and huge sales for that edition. But the fallout also began.
"This Guccione's a slob and a slime," an unidentified woman says in news footage from that time.
"
Penthouse
was forever besmirched," Bob Jr. says in retrospect.
The magazine also soon faced battles with Ronald Reagan's pornography-battling attorney general, Ed Meese, and televangelists such as Jerry Falwell, Jim Bakker and Jimmy Swaggart. The 7-Eleven convenience stores led a boycott of both
Penthouse
and
Playboy
sales while Guccione fought back with exposes on the secret sexual activities of his accusers.
"I
loved
exposing the hypocrisy of the Falwells and the Swaggarts and the religious right, all of whom had zipper problems," former
Penthouse
attorney Alan Dershowitz says in
Filthy Gorgeous
.
The film also includes footage of Guccione's and Falwell's joint appearance on an edition of Tom Snyder's NBC
Tomorrow
program. Those were the days, with Snyder excelling as a combative interviewer who pulled no punches.
Guccione's most infamous flop, a $17.5 million, 1979 big-screen production of
Caligula
, was also a key ingredient in his empire's dissolution. The cast included Malcolm McDowell, Peter O'Toole, Sir John Gielgud and a then largely unknown Helen Mirren.
Filthy Gorgeous
shows her saying at the time, "It has an irresistible mixture of art and genitals in it." She then smiles thinly.
Guccione also invested very unwisely in fusion energy and an Atlantic City Casino that never got off the ground. In 1997, the death of his longtime companion and latter day wife, Kathy Keeton, further brought him to his knees. "Losing her blew my lamps. I was never the same," says a printed quote.
Filthy Gorgeous
also includes new interviews with onetime "Happy Hooker" Xaviera Hollander; Guccione's longtime personal assistant, Jane Homlish (she still gets weepy about him); and former
Penthouse
Pet Divina Celeste, who says, "I wish that I could give one
Penthouse
day to every woman I've ever met."
All speak glowingly of the boss, who supposedly was fonder of collecting world class art than bedmates while also developing his own considerable talents as a painter. Guccione loved to cook, too.
Penthouse
's 1978 Pet of the Year, Victoria Lynn Johnson, recalls him whipping up a mean pasta before she instigated dessert.
VHS tapes and the advent of the Internet eventually turned
Penthouse, Playboy
and Flynt's
Hustler
magazine into artifacts headed by aging purveyors. The print epilogue for
Filthy Gorgeous
says that
Penthouse
plummeted from a peak circulation of 7.4 million to 102,000 today while "the youporn.com website had 15 million new users per month."
Bob Guccione lived very large before all that shrinkage set in. His story is more than a little airbrushed in
Filthy Gorgeous
, which is something
Penthouse
vowed to never do with its models. But it's quite a story nonetheless.
GRADE:
B-minus
Email comments or questions to:
unclebarky@verizon.net