Fox's Backstrom and star Rainn Wilson shine in rainy Portland
01/21/15 12:46 PM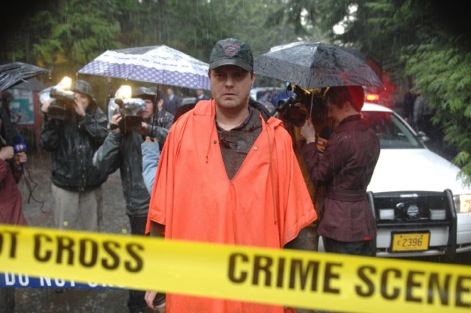 Rainn Wilson effortlessly looks lousy in Backstrom. Fox photo
Premiering:
Thursday, Jan. 22nd at 8 p.m. (central) on Fox
Starring:
Rainn Wilson, Dennis Haysbert, Genevieve Angelson, Kristoffer Polaha, Page Kennedy, Thomas Dekker, Beatrice Rosen
Produced by:
Hart Hanson, Kevin Hooks, Leif G.W. Persson, Niclas Salomonssen
By ED BARK
@unclebarkycom on Twitter
In the annals of disheveled TV detectives . . . well, there actually haven't been that many of them.
Dysfunctional? Yes. But Columbo in his famed rumpled raincoat is pretty much first and foremost among crime solvers who look as though they've just rolled out of bed with little thought of any further upkeep.
The title character in Fox's
Backstrom
easily trumps Columbo in terms of looking like hell. They share a fondness for stale cigars, but Everett Backtrom's orange-ish sack of a poncho and overall sub--slovenly appearance make Columbo seem like a Brooks Brothers fashion plate.
Rainn Wilson, who came to fame as the vain, persnickety Dwight Schrute on NBC's version of
The Office
, plays the title role with a hammy staggering swagger that turns out to fit him very well. He's all over this part, whether willingly brandishing a decidedly doughy physique or firing off dictums, insults and asides that keep this series from ever bogging down.
Three episodes were made available for review. They're all solid, with the third in line, "Boogeyman," offering a particularly riveting kidnapping case while also bringing Dennis Haysbert's supporting character to the fore.
Haysbert, All-State's veteran "Good Hands" man, plays wizened detective John Almond, whose wardrobe of suit, tie and top hat contrasts with Backstrom's unsightly attire. Reference is made to Almond's part-time pastor activities but we don't see him in a clerical collar until this episode. His struggling Joy of Everlasting Light church is way behind on bills and facing an imminent shutdown. Says Backstrom: "That's God telling you you're a crappy pastor."
Almond takes this in stride because he always has Backstrom's back. Their relationship is among this series' many strong points, particularly when Almond has a heart-to-heart talk with his partner in Episode 2.
The series is set in Portland, Oregon, where the oft-rainy weather is also something of a supporting character. Backstrom otherwise isn't about to let any smiles be his umbrella. His health issues, sparked by heavy drinking and a horrid diet -- wait'll you see a diner's "Full Backstrom Breakfast" -- have put him in a doctor's care and initially in the Portland cop shop's traffic division. It doesn't help that he's never played well with others. But his crime solving deductions still have a way of putting him back in play.
Backstrom's
nicely put together ensemble also includes young detective Nicole Gravely (Genevieve Angelson), with whom he constantly clashes; patience-testing forensics specialist Peter Niedermayer); dogged uniformed detective Frank Moto (Page Kennedy) and in-house tech specialist Nadia Paquet (Beatrice Rosen). Backstrom also has a young gay tenant, Gregory Valentine (Thomas Dekker), who doubles as his "decorator" and underworld informant.
The dialogue regularly crackles in Thursday's premiere, during which a seeming suicide by hanging of course ends up being more than it seems.
"Had a lot of threesomes, Moto?" Backstrom asks during the investigative process.
"Regular amount," he replies.
"Regular amount is
NONE
," Backstrom snaps.
Neidermayer generates this observation: "Everything you say sounds like a toast to the queen."
"Thank you, sir," he replies in all sincerity.
It's also just plain fun to hear Backstrom grouse at lunch, "Wait, what is this? I ordered deep-fried chicken balls."
As for his deductive powers, it goes like this: "I don't see the worst in everyone. I see the 'everyone' in everyone."
What you'll see is the best broadcast TV cop drama of the season, with a dirty-to-the-touch sleuth played to the hilt by an actor who's very much up for this. Rainn Wilson has found a role that fits him like an ugly, stretched-out poncho. And there's no stifling him now.
GRADE:
A-minus
Email comments or questions to:
unclebarky@verizon.net