The Americans takes FX to the head of prime-time's class
01/28/13 09:11 AM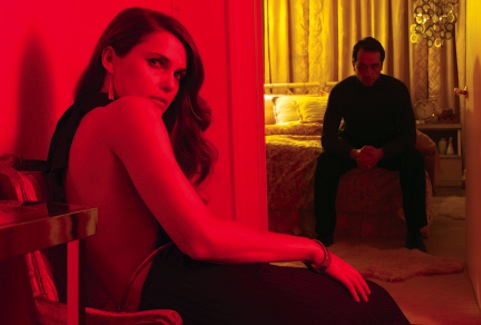 Keri Russell, Matthew Rhys are cloak and dagger KGB spies who struggle with allegiances and an arranged marriage in The Americans. It's set at the start of the Reagan presidency. FX photo
Premiering:
Wednesday, Jan. 30th at 9 p.m. (central) on FX
Starring:
Keri Russell, Matthew Rhys, Noah Emmerich, Holly Taylor, Keidrich Sellati, Maximiliano Hernandez, Margo Martindale
Produced by:
Joe Weisberg, Joel Fields, Graham Yost, Justin Falvey, Darryl Frank
By ED BARK
@unclebarkycom
As January fades toward February, is any TV network more firmly hitting its stride than FX?
My hand is raised to answer that question. And in this view, the answer is no. FX at this point is the league leader in inventive, provocative, high caliber weekly series. Both
Justified
and
Archer
are early in their fourth seasons while the very promising comedy
Legit
launched on Jan. 17th.
FX also is the network of
Louie, Wilfred
and
Sons of Anarchy
, all on break right now. And on Wednesday, Jan. 30th it will become the network of this season's potentially best new drama series,
The Americans
.
Set in 1981 at the outset of Ronald Reagan's presidency, this is the rich-in-intrigue saga of KGB spies Elizabeth and Philip Jennings (Keri Russell, Matthew Rhys), who have been masquerading as husband and wife since 1965. Also posing as travel agents, they live in suburban Washington, D.C. with their two children -- 13-year-old Paige (Holly Taylor) and 10-year-old Henry (Keidrich Sellati). The kids are clueless about their parents' cloak-and-dagger dark sides.
That said,
The Americans
gets off to a murky start in its elongated premiere episode (running until 10:37 p.m. central) before everything is sorted out. A disguised Elizabeth seduces a department of justice dupe and follows through in the sack before an initially puzzling and prolonged nighttime chase scene kicks in three days later. But your patience will be rewarded once it's fully revealed who their prey is. In the meantime you can enjoy the sounds of Fleetwood Mac's "Tusk." And later in the episode, here comes Phil Collins' "In the Air Tonight" as a stealth ode to
Miami Vice
.
Russell, of
Felicity
fame, is the marquee star of
The Americans
. But Rhys' Philip is the standout character in the first two episodes sent for review. He's lately conflicted, wondering whether they should turn themselves in for what likely would be a multi-million dollar defector payout from the U.S. government. Philip increasingly worries about the children's future, and how scarred they would be if they learned the truth only after their parents were jailed or executed.
Elizabeth, the hard-core Commie, will hear none of this. But the Jennings' well-hidden agenda is newly at risk when FBI agent Stan Beeman (Noah Emmerich) and his family move in next door. He's just been assigned to the agency's counter-terrorism unit. And Beeman is pretty obsessed with his work, even though he's outwardly a pretty regular guy.
President Reagan's unyielding stance against the Soviet Union provides an overriding backdrop, with Elizabeth's longtime mentor and instructor viewing him as a "madman." During their meeting in a Bethesda, Maryland "KGB Safehouse," he warns her that "the risks are going to be greater."
"We won't let you down, General," she stoically assures him."
Next week's taut, terrific episode quickly ups the stakes. Elizabeth and Philip are assigned to bug the office of Secretary of State Caspar Weinberger in just three days time. He views this as insanely dangerous. And the relatively primitive spying techniques of 1981 are an extra hurdle to overcome. But the plot they hatch is ingenious, with Rhys' performance letter-perfect throughout whether he's in or out of disguise.
The Americans
also includes flashbacks to the mother country as well as the couple's first arrival in their Northern Virginia home. They marvel at the window unit air-conditioner. But it's a bit much when Elizabeth instantly deduces, "There's a weakness in the people. I can feel it."
Viewers are put in a unique position. Do you in any way root for the two principal characters -- at least in the interests of preserving their children's innocence? Or is FBI agent Beeman the uncontested guy in the white hat, along with his partner, Chris Amador (Maximiliano Hernandez)? Richard Thomas (
The Waltons
) also pops in for a bit as a fellow U.S. agent.
The domestic side of the Jennings existence is almost Ozzie and Harriet-like. Elizabeth, fearing more for their safety, has a tender moment with Paige in which she offers to pierce her ears two years earlier than they had agreed on. Philip messes around with ice cream cones during a family outing.
It should be noted that AMC's only one-season-and-out casualty to date among its scripted series was the spy drama
Rubicon
. But
The Americans
is much easier to navigate and grasp once the events of the first 10 minutes or so are fully sorted out.
Whatever its ratings hit or miss prospects,
The Americans
enthralls with its complexities, simplicities and overall derring-do. Boris and Natasha need not apply. Although FX would happily embrace their long-term staying power in the popular culture.
GRADE:
A-minus
unclebarky@verizon.net