New season: Elfman again in overdrive as star of CBS' Accidentally On Purpose
09/21/09 11:33 AM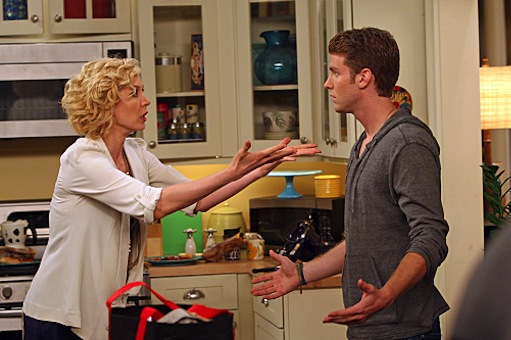 Jenna Elfman busily emotes with co-star Jon Foster. CBS photo
Premiering:
Monday, Sept. 21st at 7:30 p.m. (central) on CBS
Starring:
Jenna Elfman, Jon Foster, Grant Show, Ashley Jensen, Lennon Parham
Produced by:
Claudia Lonow, Lloyd Braun, Gail Berman, Gene Stein
By ED BARK
CBS' newest addition to its Monday night comedy lineup clearly has a fictional premise.
Its central character, Billie, is a movie critic for an outwardly prosperous San Francisco newspaper that seemingly has no imminent plans to downsize her. Guess it helps a bit when you've been sleeping with the boss for the past three years.
Accidentally On Purpose
returns lengthy Jenna Elfman to the sitcom grind after her coming out party on ABC's longrunning
Dharma & Greg
. In between time, she left virtually no impression in CBS' 2006
Courting Alex
, where her single attorney character both looked for love and sparred with a sourpuss dad played by Dabney Coleman.
Elfman, who plays Billie this time out, can't be accused of walking through the part. On the prowl at a bar, she's instructed by her best friend, Olivia (Ashley Jensen from
Ugly Betty
and
Extras
), to "perk up your nipples." So she tweaks them with her fingertips before launching into an animated conversation with three dudes in their 20s, one of them her near-future lover. Everything Elfman does is taken up a notch or two from normal human behavior. That hasn't changed, but it's been known to work for her.
Billie, 37, wants a ring, but her boss/lover James (Grant Show) has pledged to never remarry. So she settles for "young candy" in the person of apprentice chef Zack (Jon Foster).
"I'm just not a one night stand kind of person," she informs him before he's soon having at her in his apartment. And whaddya know, "he smells like a Skittle," Billie later raves.
A home pregnancy test ensues, with Billie's ditzy sister, Abby (Lennon Parham), squealing "Yay!" while the "baby baby daddy's" newly expectant mom lets loose with a "N-o-o-o-o-o!" Wack a do, wack a do.
Zack, who had been baby-sitting an apartment for a friend, otherwise sleeps in his van. So Billie invites him to live with her, but platonically for now. His three sub-idiotic friends, one just freed from prison, join in the fun as frequent visitors.
Elfman isn't without appeal in her latest high-strung endeavor. And the show has a strong supporting player in Jensen, who apparently has a cleavage-bearing clause in her contract. In Monday's opener, she's on display in every scene while Elfman mostly covers up in stark contrast to ABC's upcoming cougar-in-residence, Courteney Cox.
Accidentally On Purpose
doesn't advance the sitcom ball, though. In future episodes, the show no doubt will wrestle with commitment issues, the pregnant Billie's body image, her relationship with the boss who wants her back and other predictable travails. And if everything comes up roses in a comfy slot between
How I Met Your Mother
and
Two and a Half Men
, look for a "very special" season-ending episode in which Billie at last delivers the goods.
Can hardly wait. That's a joke, folks.
GRADE:
C+
PROGRAMMING NOTES
Monday night is loaded with season premieres of returning favorites as the 2009-10 TV season officially begins.
ABC's two-hour
Dancing with the Stars
(7 p.m.) finds the eight male celebrities hoofing and puffing. They include ex-Cowboys star Michael Irvin and former House Majority leader Tom DeLay.
CBS counters with the re-launches of its entire sitcom lineup, including
Two and a Half Men
, followed by a new episode of
CSI: Miami
.
NBC has the two-hour season premiere of its flagging
Heroes
, followed by the first true test of
The Jay Leno Show
.
And Fox devotes Monday to a two-hour
House
in which the not-so-good doctor is not-so-happily inhabiting the Mayfield Psychiatric Hospital after last May's season-ending breakdown.
Best bet?
House
, with star Hugh Laurie doing a
One Flew Over the Cuckoo's Nest
turn with help from a guest shot by the always excellent Andre Braugher as a no-nonsense but benevolent administrator.
You'll also get a nice array of new House-isms, including, "Are you ignoring me, or are you just letting my charm wash over you?"
All in all, it's both an affecting and amusing episode with a satisfying payoff.