New series review: Age of Love (NBC)
06/18/07 02:00 PM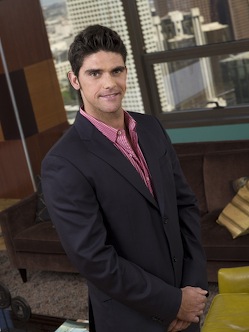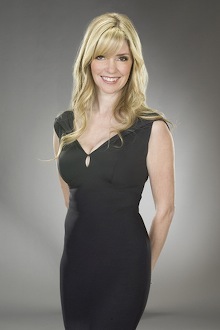 40 love? Tongue-twisting tennis pro Mark Philippoussis encounters middle-aged Dallas "cougar" Jodie Fisher on NBC's new Age of Love.
Premiering:
Monday, June 18 at 8 p.m. (central) on NBC
Starring:
Australian tennis pro Mark Philippoussis and 13 women between the ages of 21 and 48
Hosted by
Mark Consuelos
By ED BARK
Summer's reality tidal wave continues Monday with the premiere of NBC's dippy but goofily watchable
Age of Love
Cribbing from ABC's
The Bachelor
and NBC's earlier
Average Joe
, the eight-episode series puts 30-year-old Australian tennis pro Mark Philippoussis in the midst of seven potential senior partners, including 46-year-old Jodie Fisher of Dallas.
He's increasingly non-plussed while adding things up. But then comes the already announced "twist" -- a half-dozen frisky nymphets in their 20s.
Average Joe
used a similar tack in belatedly pitting schmoes against hunks for the hand of a babe.
It all basically boils down to these snappy quotes from
Age of Love's
two enemy camps.
Says a "cougar" with her claws out: "It's our way or the highway, bitches."
Says a "kitten" who thinks she's purr-fect: "I'm young and definitely hot. Deal with it."
Whatever their ages, all of the women of course swoon over Philippoussis, whose name spelled backwards is Sissuoppilihp. In his estimation, "I've been perceived as being a bit of a playboy." But now he'd like to settle down a bit, or at least downshift to Lothario.
The women, meanwhile, are either desperate ("I'm here because I want to be in love. The clock is ticking") or dead-certain they can prevail over a bunch of old bags with "crow's feet and saggy boobs," as one puts it.
You can bet the producers put her up to saying that. Little is entirely on the up and up in these concoctions. Take Jodie Fisher for instance. Her occupation is listed "VP, asset management," although the once-divorced, Dallas-based mother of an eight-year-old son also has managed her assets in other interesting ways.
The reliable imdb.com (Internet Movie Data Base) lists 10 acting credits, all during the 1990s, in films such as
Blood Dolls, Sheer Passion, Dead By Dawn, Body of Influence 2
and
Intimate Obsession
.
In fairness, though, you pretty much have to act your way through these things. And Philippoussis capably looks incredulous, dumbstruck, conned, etc. while meeting the show's initial batch of ripened women suitors.
"I have never dated an old woman," he says before almost instantly being transformed into a sensitive soul for whom age is no detriment. He's then forced to evict one of the oldsters (not gonna tell who) before a curtain opens at show's end to reveal the half-dozen little sizzlers.
"Oh. My. God," Philippoussis says before the credits roll, making him the 46,925th reality show denizen to say just that.
Your congenial host is
All My Children
's Mark Consuelos, 36, whose wife, Kelly Ripa, will turn 37 almost five months before he does.
No matter. She's still a kitten in her book. Meow, baby.
Grade:
C