Networks draw princely sums for royal wedding coverage
05/01/11 01:46 PM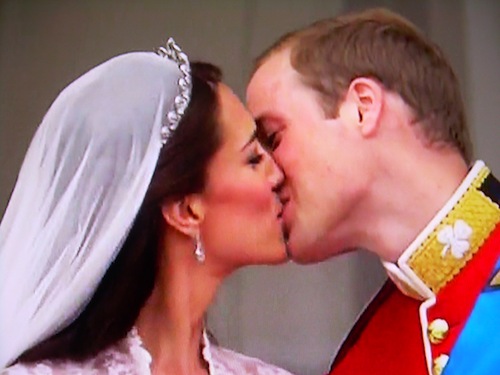 Kate and William double-dipped after getting hitched. This is their 2nd royal smooch, conducted on a balcony before cheering throngs.
Photo: Ed Bark
By ED BARK
The two network kingpins of morning television are both touting princely ratings for their Friday coverage of the royal wedding of Prince William and Kate Middleton.
NBC says that
Today
had 9.6 million viewers during its regular 7 to 9 a.m. running time, when replays of the "I Do's" were presented. The Peacock says that's the biggest audience for
Today
since Nov. 8, 2000, the day after the hotly contested election of George W. Bush to the presidency. NBC confused the Bushes in its publicity release, saying it was Dubya's dad, George H.W. Bush, who had been elected. That occurred in 1988.
ABC's
Good Morning America
ran close behind with 8.7 million viewers for the 7 to 9 a.m. portion of the program. The network said it was
GMA
's biggest crowd since "at least September of 1991," when Nielsen Media Research inaugurated its "electronic database."
The network's entire coverage of the wedding, which ran from 3 to 9 a.m. (central), averaged 6.2 million viewers. NBC did not provide a number for its complete morning coverage but said that "The Networks of NBC Universal" (NBC, MSNBC, E!, Telemundo and the syndicated
Access Hollywood
) drew a combined 52.3 million viewers.
ABC countered by crowing that its special edition of
20/20
, subtitled "A Modern Fairytale," outdrew NBC's competing
Dateline
royal wedding opus by a score of 6.7 to 4.9 million viewers.
CBS hasn't yet divulged any of its royal wedding numbers, although its forever ratings-starved
Early Show
and lame duck anchor Katie Couric no doubt trailed ABC and NBC by a wide margin.
In the cable news universe, CNN said that its 3 to 9 a.m. slice of royal wedding coverage averaged 1.7 million viewers, beating second place Fox News Channel by a 7 percent margin and MSNBC by 164 percent. CNN said this was its biggest audience delivery during those hours since the day after the 2008 presidential election.
In prime-time, a two-hour royal wedding edition of
Piers Morgan Tonight
had 1.3 million viewers, CNN said.