NBC's Blindspot gets its tattoos on
09/17/15 02:38 PM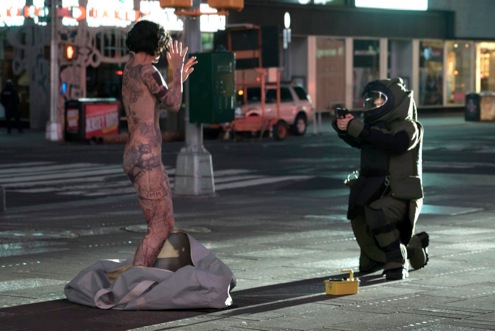 Welcome to New York via the new drama series Blindspot. NBC photo
Premiering:
Monday, Sept. 21st at 9 p.m. (central) on NBC
Starring: Jaimie Alexander, Sullivan Stapleton, Audrey Esparza, Rob Brown, Marianne Jean-Baptiste, Ukweli Roach, Ashley Johnson
Produced by:
Martin Gero, Greg Berlanti, Sarah Schechter, Mark Pellington
By ED BARK
@unclebarkycom on Twitter
Wentworth Miller sported a big batch of tattoos as the jailed Michael Scofield on Fox's
Prison Break
. But his body of work can't nearly match the head-to-toe illustrated woman on NBC's new drama series
Blindspot
.
Her name is Jane Doe for now. And she first emerges dazed, confused and nude from a duffel bag left on the sidewalks of New York during the early minutes of this puzzlement.
Meanwhile, in rural Kentucky, a prototypical hillbilly oaf is holding a woman and her baby at gunpoint in a ramshackle abode. Short-spoken FBI agent Kurt Weller (Sullivan Stapleton) leads a team that quickly subdues him. Now that his bonafides have been established, Weller is summoned back to NYC for a look-see at a woman (played by Jaimie Alexander) who "knows what music is but doesn't remember The Beatles." Or probably even The Troggs.
That's what happens when you're injected with Zeta Interactive Protein, whose byproduct is supposedly permanent amnesia. It's a far bigger predicament for this tattooed lady than
James Stockdale faced
at the 1992 vice presidential debate, when he plaintively asked at the outset, "Who am I? Why am I here?"
At least Stockdale knew for sure that he was Ross Perot's out-of-the-blue running mate. Jane knows nothing, particularly how the top of her back came to be emblazoned with "Kurt Weller FBI." He's also perplexed, saying multiple times during the Monday, Sept. 21st premiere, "I don't know yet."
Viewers apparently otherwise will be treated to the featured tattoo of the week. For starters, it's some Chinese etchings behind one of Jane's ears. Translated, they provide an address and a date. Which springs the jaunty Weller into action after insisting that Jane stay behind. No she won't. Yes she will. No she won't . . . She comes along and of course proves to be of invaluable help.
Back at FBI headquarters, boss lady Bethany Mayfair (Marianne Jean-Baptiste) barks out orders before discovering a mysterious file. In the field, Weller and Jane are having all kinds of adventures and mishaps, some of them pretty damned convoluted.
Blindspot
is very similar to NBC's
Blacklist
in terms of apprehending a bad guy of the week while peeling away bits and pieces of a mysterious origin story. A black-and-white flashback near episode's end offers a pretty big first clue before Weller intones, "Well, one thing's for sure. Someone likes playing games. And it's only the beginning."
Dialogue of that caliber just isn't going to cut it. Nor is a closing sequence straight out of the scenes-we've-seen-countless-times-before playbook.
Blindspot
has an initially intriguing premise and a compelling co-lead in Alexander. But there's also some Silly Putty in play here, with Weller's hard-charging man of action at times laughably intense amid all this oh-so deadly serious business.
Through it all, Jane is regularly naked while the show's agile camera and lighting personnel keep her PG-rated for fear of alienating any broadcast network sponsors. As usual, it's fine to show a knife to the throat and some kicks to the head. Come to think of it, that's what the first episode's plot sometimes feels like, too.
GRADE:
C+
Email comments or questions to:
unclebarky@verizon.net