Eastwood floors it for Motor City and America's "Second Half" while Madonna runs on empty
02/06/12 04:38 AM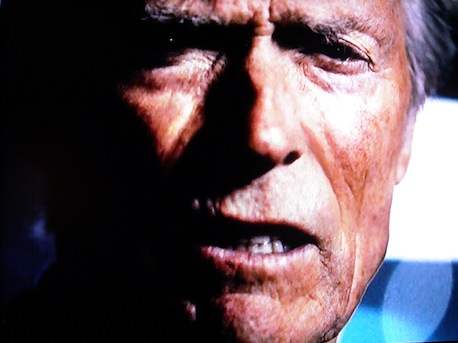 Do ya feel plucky, America? Well, do ya? Photos: Ed Bark
By ED BARK
Flinty Clint cleansed the palate of prima donna Madonna's halftime show Sunday during a Super Bowl XLVI that also happened to house a helluva good game.
It all ended with New England Patriots QB Tom Brady throwing a Hail Mary pass that almost was answered after Madonna climaxed her grossly grandiose performance with "Like A Prayer" before fake-immolating herself on behalf of "WORLD PEACE."
So where was Clint Eastwood when you needed him? Well, he appeared in fine g-r-r-r-ravely
Gran Torino
form just before the second half kickoff between the Pats and ultimately victorious New York Giants.
Eastwood talked up the resurgent Detroit auto industry and America's "second half" in an extended spot that built to his in-your-face declaration that "This country can't be knocked out with one punch." Crowd pleaser? Damn straight. The authenticity of Eastwood vs. the counterfeit display by the Material Girl, whose clearly lip-synced, over-produced, out-of-touch halftime show takes its place as the worst of the modern era. You're finally reprieved, Janet Jackson.
Hey, look me over. Madonna on parade in pitiful display.
Madonna's 13-minute halftime eyesore, presented with a film/video technique that made it seem even more distant, included a gesture malfunction on the part of guest star M.I.A. She offered a fleeting middle finger to America at large. The NFL later officially apologized for "a spontaneous gesture that our delay system caught late."
Meanwhile, Madonna briefly lost her balance during one sequence while losing her compass throughout. Isn't it about time for the Super Bowl to present actual live music in an intimate bar located somewhere within the confines of the host city? The ticket-buying audience can't really see the damn thing anyway. It's presented for the millions upon millions of TV watchers. So why not a stripped-down set from a kick-ass band? C'mon, man! -- as they like to say on ESPN. These artificially induced halftime pyrotechnics are getting as outmoded as college football's bowl system.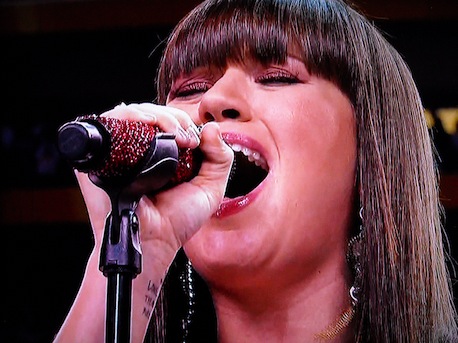 Bangs for the memories: A fine National Anthem by Kelly Clarkson.
There was one saving grace. Inaugural
American Idol
champ and Burleson native Kelly Clarkson offered a stirring, few frills National Anthem that she actually performed live. Its immediacy contrasted with the disengaging experience of watching Madonna cavort in celebration of her faded glory. That is, if you ever bought into her in the first place.
NBC's marathon pre-game festivities included frequent trips to the so-called "Super Suite," where a gushing Nick Cannon (host of the Peacock's
America's Got Talent
) presided over an assembly line of celebrities promoting their wares.
Not a one of 'em showed up without something to sell. They came and went in this chronological order:
Katharine McPhee (on behalf of NBC's
Smash
)
Jessica Simpson (NBC's
Fashion Star
)
Adam Sandler, Andy Samberg and Will Forte (the feature film
That's My Boy
)
Jimmy Fallon (NBC's post-Super Bowl edition of his
Late Night
show)
Danny DeVito (the feature film
Dr. Seuss' The Loraz
)
Chris Evans (the feature film
The Avengers
)
Blake Shelton, Cee Lo Green, Adam Levine, Carson Daly (NBC's
The Voice
).
The Voice
's other celebrity judge, Christina Aguilera, was notably missing. Perhaps she deemed it too soon to re-attend a Super Bowl after gumming up the lyrics to the National Anthem during last year's game at Cowboys Stadium.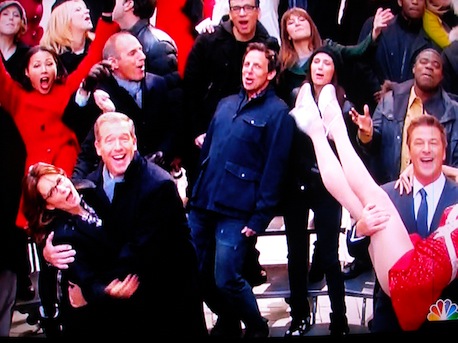 Happy feat: Tina Fey, Brian Williams, Matt Lauer, Alec Baldwin, etc.
NBC also promoted a gaggle of its ongoing shows via an inventive musical number adapted from "The Brotherhood of Man" song from Broadway's
How to Succeed in Business Without Really Trying
.
Everyone seemed to try hard in this case, beginning with the cast of
30 Rock
and ending with a group-sing outside of NBC's Manhattan headquarters.
After the game, the post-game and the Season 2 launch of
The Voice
, NBC5 presented a "super-sized edition" of its late night newscast, which started later than usual at 10:22 p.m.
Its centerpiece was a nice coup by co-anchor Meredith Land, who coaxed the wives of Cowboys owner Jerry Jones, Dallas Mavericks owner Mark Cuban and Texas Rangers principal owner Nolan Ryan to sit down en masse for an interview about what it's like to be married to these guys. Gene Jones, Ruth Ryan and Tiffany Cuban were all fairly forthcoming. Both NBC5 and Land should be credited with a nice enterprise effort.
Your friendly content provider also live-tweeted before and during the Giants' 21-17 Super Bowl win over the Patriots. So if you'd like to re-play along, you can find them all at
unclebarkycom
. And then follow, if you'd like, for future blips.
We leave you with the Eastwood spot and NBC's "Brotherhood of Man" sing-along.