Fox's Shots Fired is the latest broadcast network drama aiming to be socially relevant
03/21/17 11:23 AM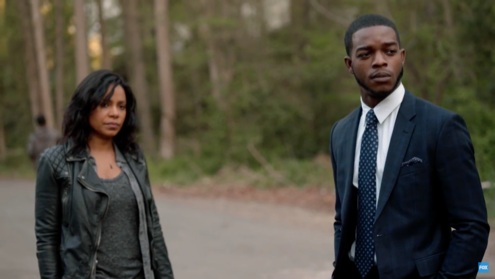 Sanaa Lathan, Stephan James are the driving forces of Shots Fired.
Fox photo
Premiering:
Wednesday, March 22nd at 7 p.m. (central) on Fox
Starring:
Sanaa Lathan, Stephan James, Stephen Moyer, Helen Hunt, Richard Dreyfuss, Mack Wilds, Aisha Hinds, Will Patton, Clare-Hope Ashitey, Conor Leslie, DeWanda Wise, Jill Hennessy, Dennis Haysbert
Produced by:
Gina Prince-Blythewood, Reggie Rock Blythewood, Brian Glazer, Francie Calfo
By ED BARK
@unclebarkycom on Twitter
The broadcast networks -- well, at least two of them -- lately have been flexing their social consciences. Not that this is a profitable enterprise.
ABC recently devoted four nights and eight hours to
When We Rise
, a stirring, affecting dramatization of the LGBT(Q) movement that in this view took the network back to its
Roots
. But the ratings were hardly
Roots
-like. In fact, not even remotely close.
Then came the re-launch of
American Crime
for a third season on ABC. Its core issue this time around is the exploitation of migrant workers. But ratings for the first two episodes have been subterranean.
Now it's Fox's turn with
Shots Fired
, a 10-episode drama that like
American Crime
is set in North Carolina, but not filmed there. It focuses on the fatal police shootings of two teenagers, one white (by a black cop) and the other black (by a white cop or cops). Predictably, and sometimes rather heavy handedly, the white kid's death consumes the fictional town of Gate Station while the earlier shooting of the black kid has been covered up and consequently overlooked.
Young prosecutor Preston Terry (Stephan James) and former cop turned investigator Ashe Akino (Sanaa Lathan), both African-American, are called in to probe the case and possibly indict Joshua Beck (Mack Wilds), the only black officer on the force. They also eventually become enmeshed in the shooting of the black teen, whose grieving, justice-seeking mother, Shameeka Campbell (DeWanda Wise), has been ignored by the police and local officials.
A fiery minister, Pastor Janae James (Aisha Hinds), later enters the fray and spurs an escalating "What About Joey?" protest from the black community.
Shots Fired
also includes three familiar faces in pivotal supporting roles. Helen Hunt is Gov. Patricia Eamons, outwardly a social justice-seeker, but also in a tough reelection battle. "You make deals to make progress" is one of her mantras.
Richard Dreyfuss plays real estate tycoon and Eamons-backer Arlen Cox, whose latest pet project is a privatized prison. And most effectively of all, Stephen Moyer (
True Blood
and FX's recent short-lived
The Bastard Executioner
, snarls and swaggers as veteran Lt. Calvert Breeland, who's seen it all and gotten pretty cynical about it. "News flash," he tells Ashe and Preston in Episode 4. "Profiling works. On white people and on black people."
Familiar character actor Will Patton chips in as the possibly weaselly town sheriff, Daniel Platt. And Dennis Haysbert can be seen for a few extraneous scenes as the father of Preston and his brother, Mace (Shamier Anderson), a cocksure star player with the Carolina Panthers.
All of these forces intertwine and collide in a morality tale whose soapy touches and swelling music may give
Shots Fired
a more "commercial" appeal than either
When We Rise
or
American Crime
, both of which have more of a documentary feel. While initially battling Preston for her proper share of the turf, the flirty, high-strung, mentally scarred Ashe also is fighting a child custody battle with her ex-. Meanwhile, Preston quickly beds the governor's top aide, Sarah Ellis (Conor Leslie), and preacher Janae may well have an ulterior agenda based on the person she hops into a car with at the end of Episode 5.
Six of the 10 episodes were made available for review. The evolving story line is involving but can also be over-baked. As is Dreyfuss' attempted thick suh-thun accent. On the physical appearance front, Hunt is notably stick-thin and very tightly drawn expression-wise -- to the point of being more than a bit disconcerting.
More than halfway through,
Shots Fired
is still without any indictments while bobbing and weaving through various subplots. Still, it's drama of a fairly high order and relevancy on a network not known for such efforts.
When We Rise
and
American Crime
likely will have bigger upsides come Emmy time. But
Shots Fired
could be a somewhat bigger audience draw by taking more of a potboiler approach.
GRADE:
B
Email comments or questions to:
unclebarky@verizon.net