Fox's Good Guys hits its regular time slot running
06/04/10 11:48 AM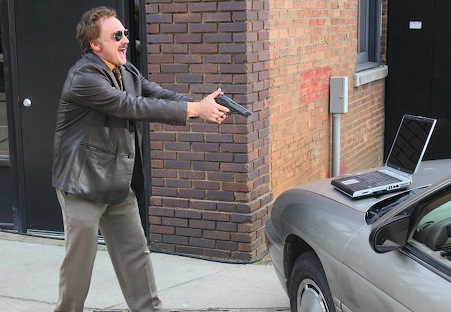 Det. Dan (Bradley Whitford) draws on an innocent laptop in Monday's regular time slot premiere of Fox's The Good Guys. Fox photo
By ED BARK
Fox's
The Good Guys
remains scenery-chomping good whenever Bradley Whitford shifts into gear as combustible cop Dan Stark.
Not that he really has to shift. His throwback character is perpetually in fourth gear, whether raging at a balky laptop or bemoaning the abduction of his beloved 1979 Pontiac Firebird Trans Am. Swallowing him whole is a pretty big gulp, which is perhaps why this Dallas-made serio-comic cop romp had such a tough start in the national Nielsen ratings when it
sneak-previewed in mid-May
.
Monday's return, in the show's official summertime slot (
8 p.m. central
following
Lie to Me
), showcases Stark and straitlaced partner Jack Bailey (Colin Hanks) in another time-shifting, determinedly far-fetched adventure. Cartoonish whenever possible, the "Bait and Switch" episode again drops the names of real-life Dallas streets and destinations during the course of another broad, pulpy crime caper.
"Just keep heading south on McKinney," Jack instructs Dan.
"Go 30 East to Westmoreland," says a snitch named Julius.
Dan and Jack earlier can be seen at the corner of Fulton and Worth Streets, where a pair of comely lasses who may or may not be lesbians have reported a broken window. Dan of course investigates thoroughly.
There's also a case of misdirection via a printed reference to "Trattoria Patricio. City's Most Romantic Lunch Spot.
Dallas Daily News
."
That's likely an in-the-ballpark nod to the Capriccio Ristorante, a North Dallas Italian eatery. It's also close but no cigar for
The Dallas Morning News
.
The center-ring storyline finds Jack and Dan tracking a vintage car theft ring headed by a buttoned up Britisher named Nigel (guest star Steve Valentine). Meanwhile, Jack has attracted the interest of a comely task force cop named Kirsten (Lauren Stamile). But Dan of course has his suspicions, believing her to be a "dirty cop -- and not in a good way."
As with last month's sneak preview, it's all quite preposterous but grin-inducing. Jabbering, swaggering Dan has more lines in a single episode than Chuck Norris had in an entire season of
Walker, Texas Ranger
. Partner Jack remains exasperated but supportive. Both actors are still settling into their disparate roles, but Fox likes what it sees enough to increase the series' original episode order from 13 to 20.
Good Guys
also has been given a Friday night berth on Fox's fall schedule, although that's still only on paper at the moment. Executive producer Matt Nix (
Burn Notice
) must first find a way to make this a summertime breeze capable of both finding and keeping a decent-sized audience opposite ABC's
The Bachelorette
, NBC's
Last Comic Standing
and formidable CBS repeats of prime-time's two most popular sitcoms,
Two and a Half Men
and
The Big Bang Theory
.
If you're part of the local film industry or this particular TV critic, consider all of those competitors as The Bad Guys. Or as
faux
steely Dan puts it time and again, "Let's go bust some punks."