Mom-com coming to CBS' Monday night comedy-cade
09/18/13 10:48 AM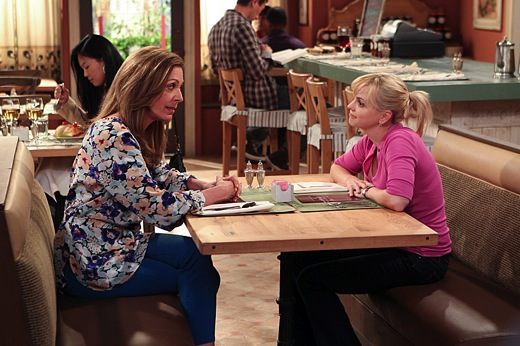 Allison Janney and Anna Faris play warring moms in Mom. CBS photo
Premiering:
Monday, Sept. 23rd at 8:30 p.m. (central) on CBS
Starring:
Anna Faris, Allison Janney, French Stewart, Nate Corddry, Sadie Calvano, Matt Jones, Blake Garrett, Spencer Daniels
Produced by:
Chuck Lorre, Eddie Gorodetsky, Nick Bakay
By ED BARK
@unclebarkycom on Twitter
Here's a new CBS sitcom that has its claws out while doubling down on both alcoholic moms and dim bulb males.
As such,
Mom
should fit right in on Monday nights, where it follows
2 Broke Girls
and is displacing
Mike & Molly
(scheduled for a midseason return).
The newcomer's best-known face is Allison Janney, who racked up four Emmy wins during her tenure on
The West Wing
. But relative newcomer Anna Faris gets top billing and in fact steals the show right off the top during an amusing weepy waitress segment spiked by a brief guest appearance from Jon Cryer of
Two and a Half Men
.
Mom, Two and a Half Men, Mike & Molly
and
The Big Bang Theory
are all properties of kingpin producer Chuck Lorre, a quiet man in interviews but a ribald, dicey guy when it comes to sitcom scripts. As in this early exchange between Christy (Faris) and her snippy teen daughter, Violet (Sadie Calvano), who declares, "Mom, I'm not having sex."
"Don't lie to the woman who washes your sheets," mom fires back.
Christy, who also has a sweet little son named Roscoe (Blake Garrett), has been sober for 118 days and counting. Her mother, Bonnie (Janney), likewise is a recovering alcoholic who reunites with her estranged daughter at an AA meeting. Breaking bread at a diner, their repartee can be something of an overdose.
"Mom, I've watched you lick cocaine crumbs out of a shag carpet," Christy tells her. Mom is undeterred: "It's not a sin to be thrifty, dear."
But hey, "while other mothers were cooking dinner, you were cooking meth." Yeah, but that's "otherwise known as working," says mom. Walter White, eat your heart out. While your dream woman floated around, you've been stuck all these years with reproachful Skyler.
Pilot episodes all too typically lay their basic premises on too thick. And Christy's ex-husband, an amiable doofus named Baxter (Matt Jones), joins in later after trying to borrow money from her to sell pot and catch up on his support payments.
"You had Roscoe pee into a Sippy Cup so you could pass a drug test," Christy protests. "And it worked," says he.
Mom
also is populated by Violet's clueless boyfriend Luke (Spencer Daniels); Christy's married restaurant boss Gabriel (Nate Corddry), who's also her secret lover; and imperious Chef Rudy (French Stewart from
3rd Rock From the Sun
). Stewart gets to toss off lines like, "Beat those egg whites gently, as if they were a small, annoying child."
It's all in the delivery, though, and that's where
Mom
for the most part excels. Faris sets the pace, Janney knows the ropes and Stewart is fully capable of dropping in now and then to lob a Gordon Ramsay-esque zinger.
Mom
isn't a comedic high point, even if one or more of its principal characters falls off the wagon during a ratings "sweeps" month. But it gets this particular job done with flair, vigor, a punchy script and two leads who make it all fairly addictive.
GRADE:
B
Email comments or questions to:
unclebarky@verizon.net