The new fall season again flies cable's colors
09/07/11 12:59 PM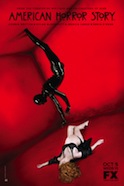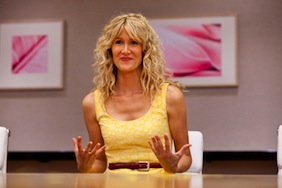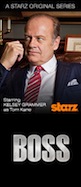 FX's American Horror Story quickens the pulse while HBO's Enligthened and Starz's Boss offer damaged goods in lead characters played by Laura Dern and Kelsey Grammer. FX/HBO/Starz photos
By ED BARK
Another new fall season is nigh, but is excitement running high?
There's rhyme
and
reason leading into this basic deduction. If you're hooked up to cable or a satellite dish, then the possibilities are sky high. If not, the new offerings by the five broadcast networks again are mostly nothing to run home about.
ABC, CBS, Fox, NBC and The CW again are rolling out plenty of new models. And not all of them are clunkers, particularly on the comedy front.
Still, there are no instant natural highs on the order of
Lost, 30 Rock, Modern Family, The Good Wife, Desperate Housewives
and
Heroes
. All were laudable fall newcomers of relatively recent vintage. It felt good jumping immediately on their bandwagons, even though
Heroes
couldn't stand the test of time -- and horrible NBC scheduling -- while
DH
devolved from a lip-smacking whodunit to a theater of the absurd.
There's certainly some potential this fall in Fox's
New Girl
and
Terra Nova
; CBS'
2 Broke Girls
and NBC's
Whitney
and
Prime Suspect
. Maybe they'll all bloom and grow. But don't expect much from the heavily publicized retro trio of NBC's
The Playboy Club
and ABC's
Pan Am
and
Charlie's Angels
. Brave new worlds? No chance, although
Pan Am
at least gets some style points.
The fall cable picture again is infinitely brighter, with five new scripted series standing out while three standouts start anew. HBO's
Boardwalk Empire
begins its second season on Sept. 25th, Showtime's
Dexter
enters Season 6 on Oct. 2nd and AMC's
The Walking Dead
brings its sophomore year to life on Oct. 16th. They have a combined 26 Emmy nominations going into the Sept. 18th prime-time ceremony on Fox.
Five new and very noteworthy cable drama series seem like locks for future awards ceremonies. Two are at the head of my fall class.
Showtime's
Homeland
, which will launch on Oct. 2nd alongside
Dexter
, is a contemporary political mystery/thriller with a
Manchurian Candidate
feel. It stars Damian Lewis (from NBC's under-appreciated
Life
) as a presumed dead Marine sergeant who's discovered in captivity and Claire Danes (an Emmy winner for HBO's
Temple Grandin
) in the role of a mentally unstable CIA agent who thinks he may have been "turned." The first episode is both enthralling and refreshingly easy to grasp, with the still young Danes again showing why she's among the very best actresses of her generation.
HBO's
Enlightened
showcases Laura Dern as an executive for a health and beauty company whose workplace affair and subsequent meltdown send her in search of a "higher self." She emerges from a Hawaii healing facility with a not entirely blissed-out determination to be "an agent of change." It may sound sappy, but it decidedly is not. Dern is terrifically compelling, with strong support from Diane Ladd (Dern's real-life mother playing her mother) and Luke Wilson as her drug-enamored ex-husband. Episodes are only a half-hour, but
Enlightened
primarily plays like a drama.
Three other cable dramas likewise have airs of distinction.
Starz's
Boss
, scheduled to premiere Oct. 21st, affords Kelsey Grammar a chance to curse and throw his weight around in his first-ever weekly dramatic role. Judging from the first two episodes, he'll be succeeding beyond expectation as iron-fisted Chicago mayor Tom Kane. Besides running the city, he's running scared from a newly diagnosed, rare and incurable disease that his doctor says will be the death of him within three to five years. So there's a new sense of urgency to Kane's governance, with Grammer and a solid supporting cast giving
Boss
the big shoulders it needs.
FX's
American Horror Story
, set for an Oct. 5th premiere, puts stars Connie Britton (
Friday Night Lights
) and Dylan McDermott (
The Practice
) on a thrill ride devised by
Glee
and
Nip/Tuck
creator Ryan Murphy. Following his marital infidelity, they move across the country and end up in a stately but spooky house bought at a bargain price. Jessica Lange again steals scenes with ease, this time as a willful, imposing next door neighbor. The pilot was shown on a big screen on the Fox lot at the recent Television Critics Association summer "press tour." It definitely got everybody's attention, starting with the distinctly different opening credits. This may or may not pan out as a sustainable weekly series. But for now it's one scary SOB.
Finally there's AMC's
Hell on Wheels
, a post-Civil War western riding into view on Nov. 6th. Despite all the buzz and awards for
Mad Men
and
Breaking Bad
, AMC's most-watched attraction ever is still 2006's two-part
Broken Trail
, which starred the tall-in-the-saddle duo of Robert Duvall and Thomas Haden Church. So the network wanted to try its hand with a weekly horse opera. This one chronicles the building of the transcontinental railroad, and all of the subterfuge and violence that went with it. Relative newcomer Anson Mount cuts an imposing figure as a former Confederate soldier with festering scores to settle. The first episode has scope and grit, but not the instant giddyup of HBO's
Deadwood
. Still, it shows strong signs of earning its spurs.
Full reviews of all the new fall series, on both cable and broadcast TV, will be coming along as the season unfolds. But prime-time's thoroughbreds are on cable. Meanwhile, the free, over-the-air networks again demonstrate that you get what you pay for. Maybe next year.