NBC announces new fall lineup
05/14/07 08:49 AM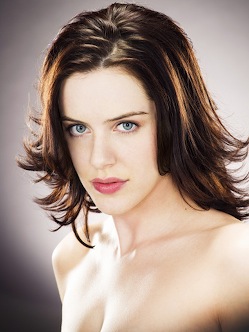 Zachary Levi and Michelle Ryan in NBC's Chuck and Bionic Woman.
By ED BARK
Quality rich but ratings poor, NBC hopes to right its ship in the fall with more mainstream fare.
Additions are minimal, though. Just four new series will dawn in early autumn, including a ramped-up version of
Bionic Woman
.
Says NBC entertainment president Kevin Reilly: "We've got the class and next season we're ready to add some mass with new shows that build on the creative accomplishments of last season and are as broad as they are good."
After a solid start last fall, the Peacock has drooped to fourth place in both total viewers and among advertiser-craved 18-to-49-year-olds. It desperately needs a big new hit or two.
The new schedule will shift NBC's acclaimed
Friday Night Lights
from the first hour of prime-time on Wednesdays to the last hour on Fridays, where the made-in-Austin series initially will have to go against real-life high school football games. That doesn't sound very sporting.
The Peacock's next battle plan also is without any new half-hour comedies, although some holdovers will be "bulked up" beyond their conventional 22-24 episode orders.
The Office
will get 30 episodes, including a quintet of one-hour editions.
My Name Is Earl
has a 25-episode order, with its namesake beginning the show's third season behind bars.
Scrubs
and
30 Rock
also will remain on Thursdays, joining
ER
for its 14th season.
Another NBC evergreen,
Law & Order
, will return for an 18th season, but not until midseason on Sunday nights after football ends.
Law & Order: Criminal Intent
is moving to the NBC Universal-owned USA network, with repeats available for airing on NBC.
Law & Order: Special Victims Unit
remains in place on Tuesday nights.
NBC has ordered 30 combined episodes of freshman hit
Heroes
and
Heroes: Origins
, which will introduce possible new characters. Viewers then get to decide online which one becomes a regular in the show's expected third season.
As anticipated, NBC has dropped
Studio 60 on the Sunset Strip
, its most publicized new series from last fall. Also in the cancelation corral:
The Apprentice, Crossing Jordan, Thank God You're Here, Raines
and
Andy Barker, P.I.
Six of the seven nights will lead off with unscripted hours from 7 to 8 p.m. (central), with only Thursday nights exempt.
Here are NBC's new series:
***
Bionic Woman
(drama) -- Newcomer Michelle Ryan stars as super-powered Jaime Sommers, a bartender and surrogate single mom who's rebuilt after a bad car accident. TV icon Lindsay Wagner played the role until 1978, when the original series left NBC. Reruns will be repurposed on NBC Universal's Sci Fi Channel.
***
Chuck
(drama) -- Nerdy Chuck Bartowski (Zachary Levi) becomes the government's "most vital secret agent" after he unknowingly downloads a wealth of sensitive data into his brain. Adam Baldwin co-stars as a major assigned to protect him. Reruns will be repurposed on USA Network.
***
Journeyman
(drama) -- San Fran newspaper man Dan Vasser (Kevin McKidd from
Rome
) suddenly begins to travel through time and change lives. His sudden unexplained disappearances also cause stress back home, where Vasser's wife and son wonder what the hell's goin' on.
***
Life
(drama) -- Offbeat detective Charlie Crews (Damian Lewis) returns to crimesolving after years in the slammer. He of course wasn't guilty of the crime for which he was convicted. Robin Weigart, glorious as Calamity Jane on
Deadwood
, co-stars as a "hard-hitting" superior officer. And resilient Adam Arkin plays Crews' former cellmate.
***
The Singing Bee
(game show) -- Contestants will have to know the lyrics to popular songs -- even after the band stops playing! As part of NBC's Friday "Game Night," the show won't premiere until an eight-week run for the returning
1 vs 100
.
NBC also plans to launch the new "dramedy"
Lipstick Jungle
on Sunday nights after the pro football season. Drawn from the novel by Candace Bushnell of
Sex and the City
fame, it's about the trials and travails of three high-powered New York career women. Brooke Shields is in the mix as movie exec Wendy and Kim Raver from
24
also gets another shot after ABC's
The Nine
went down earlier this season. She'll play Nico, editor of a hot fashion mag.
A new comedy,
The IT Crowd
, is scheduled to premiere "during the course" of next season. It's about "quirky techies" who lack people skills but know how to shape up a hard drive. Obviously fictional, it's set in the U.S. instead of India, where most of the jobs are being outsourced.
There's this, too. Jerry Seinfeld will create and star in 20 "minisodes" inspired by his experiences behind the scenes of his new animated feature film
Bee Movie
. They'll run whenever NBC want to plug them in. And
American Idol
judge Randy Jackson is co-producing
World Moves
, an international dance competition scheduled for a late fall premiere.
Here's NBC's complete fall 2007 lineup (all times central):
MONDAY
7 p.m. --
Deal or No Deal
8 p.m. --
Heroes
9 p.m. --
Journeyman
TUESDAY
7 p.m. --
The Biggest Loser
8 p.m.
Chuck
9 p.m.
Law & Order: Special Victims Unit
WEDNESDAY
7 p.m. --
Deal or No Deal
8 p.m. --
Bionic Woman
9 p.m.
Life
THURSDAY
7 p.m. --
My Name Is Earl
7:30 p.m. --
30 Rock
8 p.m. --
The Office
8:30 p.m. --
Scrubs
9 p.m. --
ER
FRIDAY
7 p.m. --
1 vs 100/The Singing Bee
8 p.m. --
Las Vegas
9 p.m. --
Friday Night Lights
SATURDAY
7 p.m. --
Dateline NBC
8 to 10 p.m. -- Drama series repeats
SUNDAY
6 p.m. --
Football Night in America
7 p.m. --
NBC Sunday Night Football
(After football)
6 p.m. --
Dateline NBC
7 p.m. --
Law & Order
8 p.m. --
Medium
9 p.m. --
Lipstick Jungle