Showtime adds The Real L Word, but subtracts the nudity
06/16/10 12:47 PM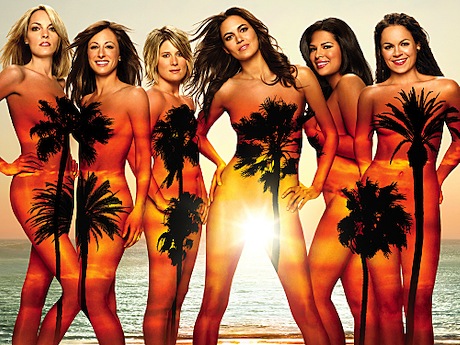 The cast of The Real L Word. Don't expect to see more. Showtime photo
Premiering:
Sunday, June 20th at 9 p.m. (central) on Showtime
Starring:
Tracy, Rose, Mikey, Nikki, Jill and Whitney
Produced by:
Ilene Chaiken
By ED BARK
Whatever your sexuality, perhaps you'll be expecting Showtime's
The Real L Word
to be, you know, a little more revealing than it is.
But what actresses did during six seasons on
The L Word
isn't what real-life lesbians do on this nine-episode spinoff. So don't get your expectations raised -- so to speak.
The first two episodes sent for review flaunt the language expected from a premium pay network without any advertisers to offend. But the above publicity photo is more provocative than anything you'll otherwise see. Participants on HBO's long-running
Real Sex
are more than happy to disrobe. Not so the six featured lesbians on
The Real L Word
, whose almost comically chaste bedroom scenes show less flesh than your basic daytime soap opera. Or pool party. Or walk around the block on a hot summer day. It's like
The A-Team
without explosions.
Maybe this all sounds a little sexist. But men weren't the only ones watching
The L Word
for its recurring skin eruptions. Ilene Chaiken, creator/producer of both versions, had no reservations with the original,
telling The Village Voice
in a 2005 interview that "lesbians, in particular, have never had their sexual desires represented on screen -- or rarely, I should say -- and they just clamor for love scenes, and diverse love scenes."
You'll get a little smooching in
Real L Word
. But the curtain is always drawn -- or the scene shifted -- when the action seems to be heating up. Participants otherwise seem to be wearing more clothes in bed than nuns do in convents. So yeah, it feels like kind of a cheat, with the six often tough-talking gay women of
The Real L Word
down-shifting from R-rated to G- when the sheets hit their fan base.
Showtime press materials say that the sometimes intertwined adventures of Tracy, Rose, Mikey, Nikki, Jill and Whitney will show "that these lesbian women can be every bit as fashionable, fabulous and even as cutthroat as those hetero housewives."
Well, Mikey and Whitney certainly are profane, dropping f-bombs with abandon but not with appeal. Whitney, a heavily tatooed playa, mouths one of her more printable proclamations during the show's opening introductions. "I love women, and not in a douche bag-y way," she says.
Whitney also recalls a tryst in which her lover wanted a little whipped cream put into play. But she didn't have any, "so I put sour cream on her boobs." Don't expect any reenactments. Don't even expect any of the featured women to get in the mood by tonguing a Hershey's Kiss.
Whitney is a "special effects artist" by trade and Mikey is a producer of L.A. Fashion Weekend. The latter lets loose with a withering fusillade of f-bombs when a batch of inferior models is sent her way. At that point you might want to root against her ever finding happiness -- if you can manage to care a whit.
Manager/producer Nikki had a husband for a brief time before coming out on
The Oprah Winfrey Show
. Her current lover and fiancee is Jill, a writer with a limited income who frets about spending too much on their wedding.
Rose, a free-spirited, hard-drinking party hound, has a relationship of sorts with her roommate, Natalie, a homebody who's not one of the six featured cast members.
Tracy, a film and TV development exec, has a new and "amazing" relationship with Stamie, who shares custody of her three kids with a "baby mama."
Their trials, tribulations, betrayals and sex talk without the sex aren't exactly enthralling. Nikki and Jill are the most relatable stars of
Real L Word
. But wishing them well doesn't exactly get the blood flowing.
Near the end of the series' opening hour, Whitney confesses that "I always try to put walls up" when it comes to long-term relationships.
Real L Word
does likewise when it comes to her multi-partnered sex life -- sour cream and all.
GRADE:
C-minus