In a down season, Idol seems re-cast as the returning Glee's warmup act
04/13/10 11:52 AM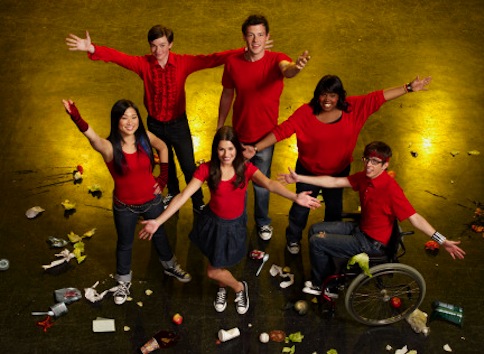 By ED BARK
Returning in smashing form Tuesday after a multi-month recess, Fox's
Glee
all of a sudden glows in comparison to the show preceding it.
It's clearly a better music competition than
American Idol
, whose current field of finalists is widely viewed as lackluster.
Ratings in D-FW no doubt are buoyed somewhat by the presence of North Texans Casey James and Tim Urban among the final 9 contestants. Nationally, though, both editions of
Idol
have trailed ABC's Monday outing of
Dancing with the Stars
for the past two weeks in the weekly Nielsen ratings. And that's a seismic shift during this final season with drink-stirring judge Simon Cowell.
In contrast,
Glee
vibrates with energy, humor and song performances that keep jumping off the screen. Airing at a special time -- 8:28 p.m. (central) -- the "Hell-o" episode will knock local newscasts back a half-hour, including Fox4's. No big loss when you can have this much fun.
The "Hell-O" theme leads to cast versions of songs by The Doors, Lionel Ritchie and The Beatles among others. There's also a spurned Rachel Berry's (Lea Michele) rendition of "Gives You Hell" by All American Rejects. This violates Glee Club maestro Will Schuester's (Matthew Morrison) "Hello" theme, but Rachel is intent on sending a message to boyfriend Finn Hudson (Cory Monteith), who's just dumped her.
"I'm sorry. I think I was just focusing on the first syllable," she explains.
The episode also brings acidic cheerleader coach Sue Sylvester (Jane Lynch) back from suspension after she blackmails the McKinley High principal.
Will wants to make nice, but she's not having it: "I won't be burying any hatchets, William, unless I happen to get a clear shot at your groin. You humiliated me."
On another relationship front, the newly separated Will is trying to deepen his knowledge of fellow teacher Emma Pillsbury (Jayma Mays), who's long had a crush on him. But complications of course kick in.
Fresh from a prestigious Peabody Award win and newly on the cover of
Rolling Stone
,
Glee
is flexing major league momentum that's also been pumped up by a pair of hit CDS. Its show-stopping production numbers and scene-stealing turns by Lynch are evidence that no one's missed a beat during the long layoff.
Next week's episode, "The Power of Madonna," brings some of her hits into play.
Idol
hasn't had a Madonna week yet, but this year's Season 9 would only suffer in comparison anyway. As
Idol
sags,
Glee
surges. And that's lately the name of that tune.