Beast of burden: New A&E series a bad vehicle for game Swayze
01/15/09 01:56 PM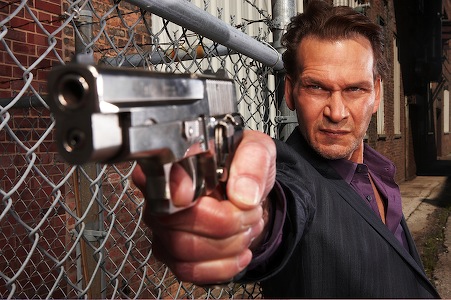 Patrick Swayze stars in The Beast, whose aim is off.
By ED BARK
Just about everyone probably knows by now that Patrick Swayze continues to stare death in the face while battling pancreatic cancer.
In that context it's hard to imagine him making it all the way through 13 episodes of
The Beast
, which recently completed filming of its first season on A&E.
Thursday night's premiere episode (
9 p.m. central
) looks as though it would have been hell to film for a healthy man. Set in what looks to be a sub-freezing, very cheerless Chicago, it confusingly and sometimes flat-out incomprehensibly sketches a world of undercover cops and the thugs they hope to dupe.
Swayze plays the very edgy Charles Barker, who may or may not have gone over to the dark side while in the service of the FBI. His protege is rookie agent Ellis Dove (Travis Fimmel), who pledges allegiance to his mentor while also fighting off doubts about him.
"He looks at you and sees himself 20 years ago," Dove is told by a superior. "Does that scare you? 'Cause it should."
Swayze's performance isn't the problem. He's convincingly intense, whether barking out orders to Dove or shooting himself in the shoulder during next week's Episode 2 as a very odd means to bring a drug ring to an end. Barker has the hollowed, haunted look of an anti-hero at rope's end. And given Swayze's real-life circumstances, that may not be much of a stretch.
Fimmel on the other hand seems hopelessly devoted to replicating every last mannerism of the late James Dean. The former star of the since defunct WB network's
Tarzan
comes off as laughably deranged rather than emotionally vulnerable. His scenes with a girl he likes -- Lindsay Pulsipher as law student Rose Lawrence -- are more creepy than awkward. They cry out for a restraining order rather than her patient understanding of a monosyllabic guy who won't say what he does or who he is. Of this he's certain, though: let's meet for a drink.
Both lead actors are in the service of wildly implausible, unstitched storytelling. Plot threads seem beside the point in
The Beast
, which instead veers and wobbles from one determinedly dark scene to another.
In the end, the basic fabric is threadbare. All of which leaves Swayze giving perhaps the performance of his life in a series that keeps falling apart around him.
GRADE:
C-minus