Gay pride is front and center in HBO's Looking
01/17/14 09:01 AM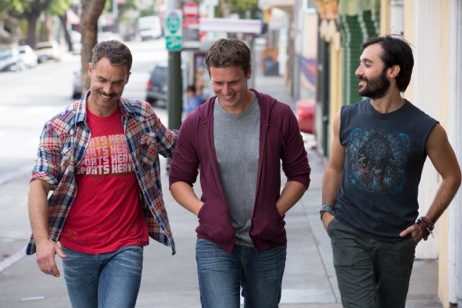 Gay pride: the three stars of San Francisco-set Looking. HBO photo
Premiering:
Sunday, Jan. 19th at 9:30 p.m. (central) on HBO
Starring:
Jonathan Groff, Frankie J. Alvarez, Murray Bartlett
Produced by:
Andrew Haigh, Sarah Condon, Michael Lannan, Allan Heinberg
By ED BARK
@unclebarkycom on Twitter
Paired with
Girls
and drawing the inevitable comparisons, HBO's
Looking
has an overall happier disposition even though its three principal gay male pals for the most part are struggling personally and/or professionally.
The eight-episode series is set and filmed in San Francisco, where coming out is beside the point. Patrick, Agustin and Dom, respectively 29, 31 and 39, are in no way angst-ridden about their sexuality. They're happily and often bluntly gay, moving in circles where no one condemns or questions them.
The Showtime drama series
Queer As Folk
, which ran from 2000 to 2005 (after originating as a British series), was the true trailblazer in terms of up-close depictions of gay men. Its characters were younger and more conflicted, though.
Looking
isn't a comedy, but it's much bouncier on its feet. Not slap-happy, but comfortable in its own skin as the three principals, in the words of HBO's show description, "explore the exciting and varied options available to a new generation of gay men seeking fulfillment in love and life."
Patrick (Jonathan Groff) is the straightest of the three in terms of experimentation and appearances. He's also by far the prettiest while working as a video game designer by day and looking to expand his horizons by night.
Meanwhile, Patrick's longtime roommate, Agustin (Frankie J. Alvarez), is in the process of moving out in order to move in with his lover Frank (O-T Fagbenle), who lives across the bay in Oakland. In Episode 2, one of four sent for review, Patrick amusingly says goodbye by reciting the "Thank you for being a friend" lyrics from
The Golden Girls
. But they'll still be seeing a lot of one another.
The third wheel, Dom (Murray Barlett), has long worked as a waiter in an upscale restaurant. He yearns to open his own chicken eatery, and in Episode 3 meets an engaging area entrepreneur (guest star Scott Bakula) who might be able to help him.
Both Patrick and Dom are very much interested in finding the right guy. Patrick has never had a relationship that's lasted more than six months. Dom was in a destructive one with a former drug addict who's now a prosperous realtor. Their meeting, after an eight-year estrangement, only serves to bring out Dom's bitterness -- first in drips, then in a gusher.
The dialogue tends to be more graphic than the sexual situations in these early episodes. Patrick's chance meeting on a subway car with a Latin guy named Richie (Raul Castillo) leads to a discussion with Agustin over whether he might be "uncut," as many "real Mexicans" are. This prompts an inquisitive Patrick to google "uncut Latin cocks."
In an Episode 4 scene with his new British boss, Kevin (Russell Tovey), Patrick jokes about having a "soft spot for the old men who masturbate in the ass-less chaps." They're watching a heavy leather gay parade/festival from the office window during this byplay. Patrick later is talked into joining the party and buying a black leather vest. It initially makes him uncomfortable, sort of like Donny Osmond in a slasher film. But Patrick has adjusted by the time everyone gathers that night at a gay bar. "Go fetch," he's told after spotting Richie on the dance floor.
Looking
unfortunately risks giving the overall impression that gay men are always on the prowl. Even Agustin and his fiancé are quick to engage in a three-way. And a suddenly unemployed Agustin later is taken with the idea of becoming a "sex worker" after meeting a guy in a diner who charges $220 an hour.
Groff's Patrick disapproves of this line of work while at the same time striving to be more adventurous in his pursuit of a partner. In some ways he's the stabilizing force of
Looking
. And in other ways the loose cannon. He's also very likable, which is still a key element in most TV series.
Not everyone will like
Looking
and many will actively loathe it purely because of the subject matter. In that respect there's always
Duck Dynasty
. Watch what you will in a big, sprawling TV universe that shouldn't be beholden to either Bible-thumpers or political correctness.
Looking
may be one of Phil Robertson's worst nightmares. But Harvey Fierstein is going to really dig it.
GRADE:
B+
Email comments or questions to:
unclebarky@verizon.net