ER checks out after lasting long enough to go on Medicare
04/02/09 11:30 AM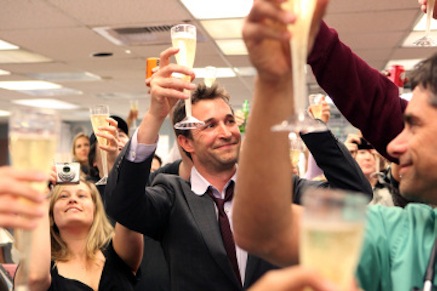 Toasting, 1, 2, 3. Charter ER cast member Noah Wyle is at center.
By ED BARK
ER
seems older than Eeyore as it prepares to close shop tonight after 15 seasons on NBC.
The onetime medical marvel will bow out (
Thursday, April 2nd, 8 p.m. central
) as the longest-running prime-time doctor drama in TV history. Yet it's not even the senior partner on NBC, whose
Law & Order
pre-dates
ER
's Sept. 19, 1994 premiere by four falls.
Both award-winning dramas harken to the onetime glory years at NBC, and perhaps of broadcast network TV in general. And each series has managed to go on and on without any remaining members of its charter cast.
Noah Wyle was one of
ER
's first-season mainstays. And his Dr. John Carter, recipient of a kidney transplant a few episodes back, will be dropping in on tonight's two-hour farewell, subtitled "And In the End." So will Eriq LaSalle's oft-testy Dr. Peter Benton, who also knew the power and the glory of
ER
during its decade as a Top 10 series in the yearly Nielsen ratings.
ER
likely won't even win its two-hour time slot tonight. ABC is laying back with repeats of its two medical shows (
Greys Anatomy
and
Private Practice
), but CBS is firing away with new episodes of
CBS: Crime Scene Investigation
and
Eleventh Hour
.
Regardless, NBC won't have much available space next season for the storied 9 p.m. (central) dramas of its relatively recent past. Jay Leno will be occupying that slot five weeknights a week next fall. NBC once populated that hour not only with
ER
, but with hallmark dramas such as
Hill Street Blues, St. Elsewhere, L.A. Law, Miami Vice and its Law & Order franchise, which for the most part will have to relocate.

ER also set another kind of gold standard, as the most expensive drama series ever to air on a broadcast network. NBC had underpaid for the series in its early years. But Warner Bros. Television later cashed in big-time, commanding a $13 million per episode license fee from NBC in times when the Peacock was willing and able to pay it.

Those days are long gone, with NBC estimating that Leno will cost the network roughly one-third or less of what it took to fuel the 9 p.m. hour with scripted drama series.

Many of the high-quality, buzz-worthy dramas now are on cable networks, even if their audiences come nowhere near the 30 million viewers per episode that ER averaged in its first four seasons. But cable networks collect twice, via on-air advertising and the carriage fees they receive from cable operators. It's reached the point where NBC Universal's once proud broadcast arm has become a loss leader while its cable properties, including the USA, Sci Fi, Bravo and MSNBC networks, are showing increased profits.

With just its last episode remaining, ER ranks 50th in the prime-time universe this season with 8.4 million viewers a week. That would still be a smash on any and all cable networks. But it's just a bit more than one-third the audience being drawn by each of Fox's two weekly doses of American Idol, which may be the most cost-efficent series ever.

ER can still bow out with head held high, though. It's been a decade since County General Hospital sustained the loss of George Clooney's Dr. Doug Ross. Critics and viewers alike wondered if the show could go on without its marquee star and cover boy, the Dr. "McDreamy" of his day.

But ER has continued to operate at a high level, sustaining other major cast departures but always replenishing itself. Losing those high-priced stars in many ways helped to keep ER in business on NBC, which now looks fondly upon The Biggest Loser as one of its few on-the-cheap moneymakers.

So yes, it's all too true. The network of ER is left with few vital signs these days. You might say it's lapsed into critical condition, hoping against hope that Leno's unprecedented prime-time venture will also be a health care package. Meanwhile, NBC's doctors are out -- ending an era and a way of doing business that is all but DOA.