TNT's The Great Escape can't hide from itself
06/24/12 12:38 PM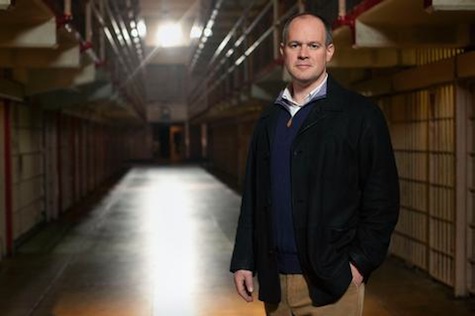 Host Rich Eisen at Alcatraz for premiere episode of The Great Escape.
TNT photo
Premiering:
Sunday, June 24th at 9 p.m. (central) on TNT
Hosted by:
Rich Eisen
Produced by:
Brian Grazer, Ron Howard, Francie Calfo, Bertram van Munster, Elise Doganieri
By ED BARK
@unclebarkycom
Ostensibly a pulsating thrill show, TNT's
The Great Escape
proves to be about as exciting as licking stamps.
It's the network's maiden outing in the so-called "reality" arena. But an off-screen cast of blue chip producers, including Brian Grazer, Ron Howard and Bertram van Munster (architect of
The Amazing Race
), isn't nearly enough to ring the bell. The show's non-stop, frenetic/frenzied musical accompaniment doesn't help either. From start to finish, this looks like a non-starter that most definitely shouldn't be confused with the movie that made a major star out of a motorcycle-jumping Steve McQueen.
Hosted by former ESPN and now NFL Network personality Rich Eisen,
Great Escape
's premiere episode originates from evocative old Alcatraz Island, which also accommodated an ambitious Fox series that got canceled last month. The old impregnable fortress seemingly is game for just about anything these days. Maybe Nickelodeon could rustle up a spooky little holiday special built around an Easter egg hunt.
Eisen contends that one of three teams competing for a $100,000 prize will "make history" by being the first humans to escape Alcatraz's clutches. That's like saying a record high jump has been made, but with a little help from a trampoline.
One of the two-member teams, brother and sister Miles and Megan, is billed as being from Dallas in the DVD sent for review. But
TNT publicity materials
say they're from Charleston, Illinois. Local angle or not, their competition comes from pals Jeff and Lexx and engaged couple Brittany and Gabe.
"It's old school. But it's so creepy at the same time," Miles marvels after Eisen comically barks, "Guards. Remove their blindfolds."
All three teams are put in separate "detainment zone" cells for starters. Keys are hidden somewhere within those confines. After unlocking themselves, competitors scramble through Stages 1 to 4 in search of sequential pieces of "The Great Escape Key." Eventually, the successful team will join an "accomplice" on a speed boat that will take them from Alcatraz to Eisen, who awaits with a suitcase full of cash.
"All right, it's time for you to go forth with your money," he eventually oddly puts it.
Getting to the promised land basically requires lots of running to and fro in the dark. And with the random nature of this game, "guards" can recapture a team at any moment and return them to their cell to start all over. Lacking the human drama, scenic beauty or physical challenges of
The Amazing Race
, this first episode quickly becomes boring and repetitive. Go go go go. Hurry hurry hurry. Blah blah blah, featuring occasional outbursts from the high-strung Lexx, who says at one point, "I went into animal mode."
Nothing really jells here. Perhaps upcoming escapes, from the USS Hornet and a Louisiana bayou, will be more interesting from a spectator standpoint. But it's important to get off to a good if not great start with shows like this.
The Great Escape
instead falls flat on opening night, beginning at the midnight hour on Alcatraz island and then almost instantly turning into a pumpkin.
GRADE:
C-minus