Better than nothing: Curb kicks off Seinfeld "reunion" episodes
10/02/09 02:59 PM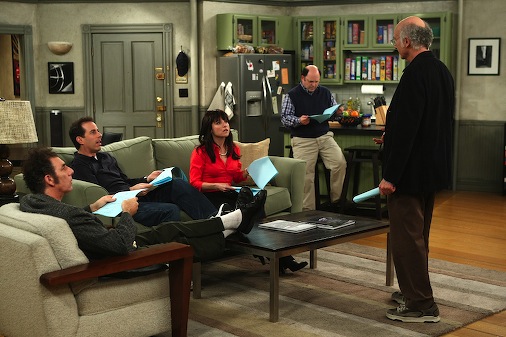 By ED BARK
Curb Your Enthusiasm's
pre-season is over, even though the first two episodes were fun.
But now comes the reason why Season 7 will be quite unlike any other. Sunday's third of 10 episodes (
8 p.m. central on HBO
) puts
Curb
's mock
Seinfeld
reunion in motion, with Jerry Seinfeld, Julia Louis-Dreyfus, Jason Alexander and Michael Richards all in the picture as themselves.
Larry (
Seinfeld
co-creator Larry David) of course has ulterior motives. He wants to reunite with estranged wife Cheryl (Cheryl Hines), and figures the way back into her heart -- and other areas -- is to offer her a part in the planned reunion. She's thrilled to hear about this, but nothing ever goes quite right for Larry. As you'll see in the closing scene.
Larry's manager, Jeff Greene (Jeff Garlin), is still fending off NBC's advances. The network yearns to stage a
Seinfeld
reunion, which you would too if your real-life ratings were close to subterranean. So Jeff pleads with Larry to get the Peacock off his back by giving their executives an emphatic, in-person "No." OK, fine. But another chance meeting with Cheryl prompts Larry to impulsively change his mind.
The episode includes separate meetings between Larry and all of the cast principals. He strives to sell them on the premise that George Costanza (Alexander's replica of the real Larry) is trying to get back with his wife after divorcing her.
"It could make up for the finale, that's for sure," Jason tells him over lunch. He's referring to the May 14, 1998
Seinfeld
swan song, in which Jerry, George, Elaine Benes (Dreyfus) and Kramer (Richards) ended up behind bars serving a one-year sentence for "crimes against humanity." A lot of TV critics were disappointed with the finale, including your friendly content provider.
Things go their not-so-merry way, with Jerry wondering why it wouldn't be "lame" while also accusing Larry of doing an about-face on staging a reunion. Elaine and Jason both get into post-meeting arguments with Larry while a vacant Richards is more interested in the nude pictures at the restaurant Larry's chosen for lunch.
It's a clever, funny start to these proceedings, although just a bit forced at times. The buildup to the reunion will play out for the next seven episodes, with portions of the finished product comprising much of this season's
Curb
finale.
That leaves an open question. What could
Curb
possibly do for an encore if there's a Season 8? One gets the feeling that the
Seinfeld
gambit might close that door for good. But no one truly knows
the mind of Larry David
. Not even him.