The Kids Are Alright gives ABC another well-tuned rewind to family of another era
10/15/18 02:18 PM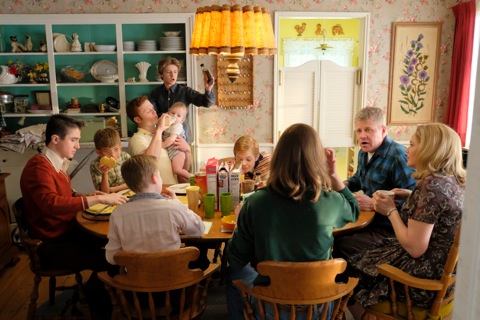 Life's a battleground at the Cleary dinner table. ABC photo
Premiering:
Tuesday, Oct. 16th at 7:30 p.m. (central) on ABC
Starring:
Michael Cudlitz, Mary McCormack, Jack Gore, Sam Straley, Caleb Martin Foote, Christopher Paul Richards, Sawyer Barth, Andy Walken, Santino Barnard
Produced by:
Tim Doyle, Randall Einhorn
By ED BARK
@unclebarkycom on Twitter
The onetime network of
Full House
now has the fullest house in TV sitcom history.
Embattled parents Mike and Peggy Cleary (Michael Cudlitz, Mary McCormack) have eight additional mouths to feed at the daily dinner table. They're all sons, and some are starved for attention as well in
The Kids Are Alright
, ABC's latest well-crafted period piece comedy.
ABC long has been the network of mom, dad and the kids sitcoms while also making its mark with long-running rewinds to the 1950s (
Happy Days, Laverne and Shirley
, the '60s (
The Wonder Years
) and the '80s (
The Goldbergs
).
Kids Are Alright
is set in the '70s -- and for future/past reference, ABC's midseason comedy
Schooled
will be set in the '90s as a spinoff of
The Goldbergs
.
Paired with
The Conners
on Tuesday nights,
Kids Are Alright
follows the leads of
The Wonder Years
and
The Goldbergs
with a narrative voice of an adult recalling his childhood. In this case, it's creator/executive producer Tim Doyle, who vocalizes middle kid Timmy (Jack Gore), a 12-year-old with an artistic bent who auditions for a children's theater musical in Episode 1 and performs with his fire-damaged ventriloquist's dummy Knuckles in the second episode provided for review.
The nominal family patriarch is prototypically gruff but a bit mushy when it matters most. In an early scene, Mike Cleary isn't buying any Nixon White House scandals. "You know what I call Watergate? That's phony news," he barks.
Peggy Cleary is the old-line, stay-at-home mom with a weary disdain (outwardly at least) for sons who think they're gifted.
"We do not have the wherewithal in this family for any of you kids to be special," she says. And furthermore, "We can't afford asthma."
Some of the Cleary kids pretty much blend into the well-worn woodwork in these first two episodes. Besides Timmy, those who stand out include oldest son Lawrence (Sam Straley), who's developing a social conscience while bailing out on becoming a Catholic priest, and scheming, budding hipster Joey (Christopher Paul Richards), a confidante when Timmy really needs one.
In Episode 2, Lawrence lobbies for healthier choices in the Cleary diet before mom reminds him, "We're just not fresh vegetable people." Then he later upbraids his dad for buying lettuce and grapes when farm workers are on strike. Wasn't he aware of their plight? "I might have heard Cronkite mention something in his nightly coverage of whiners and crybabies," Mike retorts.
Kids Are Alright
has some fine, funny lines and also plenty of companion story lines to follow besides Timmy's. It's the best of the fall season's new comedies from a network that's become well-practiced in turning back the clock and making shows like these tick.
GRADE:
B+
Email comments or questions to:
unclebarky@verizon.net