24: Legacy is evidence that time's up
02/03/17 10:23 AM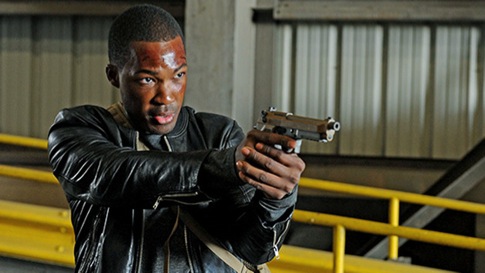 A new guy, but the same pose in 24: Legacy. Fox photo
Premiering:
Sunday, Feb. 5th after Super Bowl LI with another new episode on Monday at 7 p.m. (central) on Fox
Starring:
Corey Hawkins, Miranda Otto, Jimmy Smits, Teddy Sears, Anna Diop, Dan Bucatinsky, Ashley Thomas, Charlie Hoffheimer, Gerald McRaney, Sheila Vand, Coral Pena, Raphael Acloque
Produced by:
Howard Gordon, Brian Grazer, Evan Katz, Manny Coto, Stephen Hopkins, Robert Cochran, Jon Cassar, Kiefer Sutherland
By ED BARK
@unclebarkycom on Twitter
At its very best,
24
rocked around its clock and remains Fox's lone Emmy winner in the Best Drama Series category.
That was for Season 5 back in 2006, when the show also logged its best Nielsen ratings. A slow decline then set in before Fox temporarily called it quits after 2014's truncated 12-hour
24: Live Another Day
.
Now that Fox's first Jack Bauer-less
24
is upon us, another tick-tock axiom comes to mind after watching the first four hours made available for review: Even a broken clock is right twice a day.
24: Legacy
, which launches after Sunday's Super Bowl LI, is never quite
that
bad. But after a rather promising start, it seriously goes off the rails in Monday's second hour with a race-against-time heist that's preposterous even for
24
.
Getting into much further detail would be a disservice to viewers. It's no big reveal, though, to say that yet another massive domestic terrorist strike is at hand unless the new Jack (Corey Hawkins as former Army Ranger Eric Carter) can quickly come up with $2 million. Wouldn't that seem like easy money with so much at stake? But no. So Eric takes matters into his own hands in a way that plunges
24: Legacy
off a credibility cliff.
Six months earlier in Yemen, Eric and five other elite Army Rangers uncovered and killed terrorist kingpin Sheik Ibrahim Bin-Khalid, whose followers (including his son, Jad Bin-Khalid (Raphael Acloque) then declared a fatwah against them. The Rangers all were given identity scrubs and placed in the federal witness protection program. Eric and his wife, Nicole (Anna Diop), had been safely in hiding with new names until mysteriously being exposed. Only two of the six Rangers are now among the living, with the killers in search of a strongbox that had been taken from the dead Bin-Khalid's lair. What does it have that they want? You'll find out early in Episode 2.
24
's long-running CTU, where Kiefer Sutherland's Jack Bauer got his start, is still in operation but without any familiar faces. Oft-vexed computer ace Chloe "Fine" O'Brian is gone and there's a new director named Keith Mullins (Teddy Sears). The old director, Rebecca Ingram (Miranda Otto), masterminded the Ranger raid and gets a big medal for it early in Sunday's opener. She's otherwise left CTU to support her husband John Donovan's (Jimmy Smits) run for the presidency. But when Eric calls out for help, Rebecca gets back in the CTU saddle. And as usual, someone is suspected of being a traitor from within.
Some viewers will recognize Otto from last season's
Homeland
, in which she played duplicitous CIA station chief Allison Carr. Howard Gordon is the chief executive producer of both
Homeland
and
24
, which accounts for Otto's quick return to play another high level terrorist-hunter. It's who you know -- and whether they like you.
Gerald McRaney, who's also playing a gruff but goodly doctor on NBC's
This Is Us
, does double duty as the powerful father of Smits' Senator Donovan. His candidacy is newly imperiled with suspicions that trusted campaign director Nilaa Mizrani (Sheila Vand) could be a terrorist sympathizer.
There's also a terrorist subplot being hatched in a high school. And if that's not enough, Eric's previously estranged brother, Isaac (Ashley Thomas), is a drug dealer called on to protect Nicole after their witness protection cover is blown. He still blames Eric for stealing Nicole away from him, but now has a new girlfriend named Aisha (Tiffany Hines), who's quickly up to no good.
24: Legacy
still proceeds in "real time," with the first four episodes running from noon to 4 p.m. Fox has ordered just 12 episodes, though, so things will have to speed up soon. Hawkins is capable enough as the series' new man of action, but the whole enterprise seems pretty played out at this point. The ridiculous center stage goings-on in Episode 2 certainly don't help matters while the subplots further undermine what used to be TV's most captivating page-turner.
Many potential viewers also might be combat-fatigued from the real-life daily drama spewing from the White House and Congress. The
24
franchise still takes itself very seriously and perhaps will somehow sort things out from a basic believability standpoint as time marches on. But in the first four hours, it's too often
24: Cuckoo Clock
.
GRADE:
C+
Email comments or questions to:
unclebarky@verizon.net