Matthew Perry's Go On gets a post-Olympics "sneak" that most viewers still may not know about
08/06/12 11:53 AM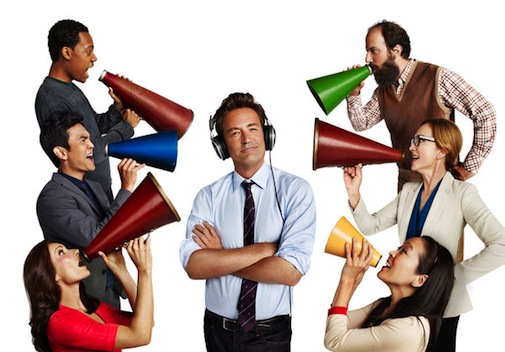 Matthew Perry hopes to cope in Go On. NBC photo
Premiering:
Wednesday, Aug. 8th at 10 p.m. (central) on NBC
Starring:
Matthew Perry, Laura Benanti, Tyler James Williams, John Cho, Julie White, Suzy Nakamura, Brett Gelman
Produced by:
Scott Silver, Todd Holland, Karey Nixon, Jon Pollak
By ED BARK
@unclebarkycom
What NBC has here is a possibly more commercial
Community
fronted by a better-known star who very much or maybe desperately wants another sitcom hit.
Friends
alum Matthew Perry, whose ABC sitcom
Mr. Sunshine
went into quick eclipse, is back in play as a snappy sports talk radio host whose wife died just a month earlier. Ryan King (Perry) thinks he's ready to roll again as the main man of
Go On
. But his radio station boss, Stephen (John Cho), orders him to undergo a minimum 10 sessions of group therapy before letting him back on the air.
As in
Community
, Ryan soon finds himself in the midst of a group of mostly misfit toys, all of whom have suffered recent losses. The most appealing among them is former
Everybody Hates Chris
star Tyler James Williams, who's now a young man with a bass voice.
NBC so far has done an odd job of hiding the fact that
Go On
is being sneak-previewed at 10 p.m. (central) following the network's Wednesday, Aug. 8th Olympics coverage. Promos for the series only tout its Sept. 11th premiere, when it will be part of NBC's revamped Tuesday night lineup following a potent lead-in from
The Voice
.
The therapy group is called "Transitions." Ryan predictably is above it all for starters while Perry himself is over-the-top in his early scenes at the radio station. But
Go On
begins to click when he takes over the session in the brief absence of its group leader and conducts a NCAA brackets-style competition to determine who has the best sob story. Williams' character, Owen, comes up with a name for it -- "March Sadness." Not bad.
Ryan's overall foil -- and probable love interest in time -- will be group leader Lauren (Laura Benanti), who's initially territorial. But the first episode finds her already easing off the throttle after admitting to Ryan that her credentials are suspect at best.
"You're a very nice lady. I'm gonna send you all my sad friends," he says while begging her to sign his release form.
Patients also include the gratingly creepy Mr. K (Brett Gelman), who looks as though he's going to be to
Go On
what Chevy Chase is to
Community
. Unfortunately, TV vet Bill Cobbs is not listed as part of the regular cast, although his blind George character gives the pilot a nice boost.
Back at the radio station, Terrell Owens guest-stars as himself. And he's on the receiving end of a terrific one-liner after Ryan blows up at him and the two nearly come to blows. "Oh, oh, you're gonna hit me?" Ryan taunts. "Be careful. You might get thrown out of the indoor unemployment bunny rabbit league."
Well, that's already happened, but it's hoped they'll keep that line in there.
Go On
will be using the therapy sessions as its hub, with side trips to Ryan's talk show in future episodes. It's billed as a "touching new comedy" in NBC publicity materials but can be just a bit cloying as well. The first episode also ends rather lamely.
Still, this is a better vehicle for Perry than
Mr. Sunshine
. It's also a more structured, grounded form of
Community
, with NBC striving to invest its new comedies with broader appeal in hopes of rising above the level of cult followings.
Community, Parks and Recreation
and
30 Rock
all have their dedicated fan bases, but haven't been able to build on them.
Go On
obviously won't be off the charts ratings-wise, as
Friends
was for most of its run. It might settle in, though, with Perry still a solidly capable comedic actor looking to nest a while.
GRADE:
B-minus