Out of the vampire rut with Syfy's Bitten
01/13/14 03:28 PM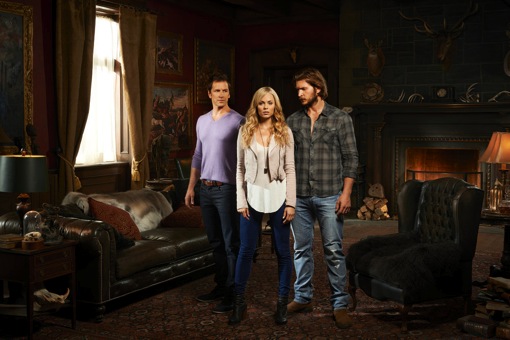 The guy on the left's not a werewolf in Bitten.
Premiering:
Monday, Jan. 13th at 9 p.m. (central) on Syfy
Starring:
Laura Vandervoort, Greg Bryk, Greyston Holt, Paul Greene
Produced by:
J.B. Sugar, Patrick Banister, John Barbisan, Tecca Crosby, John Morayniss, Margaret O'Brien, Daegan Frykind, Grant Rosenberg
By ED BARK
@unclebarkycom on Twitter
Syfy puts the "she" in werewolf with
Bitten
, whose put-upon heroine is more interested in mating with a chiseled adman whose name is not Don Draper.
The 13-episode series is set in present times, meaning that cell phones go off with more frequency than transformations. But there's still ample opportunity for blonde, beauteous Elena Michaels (Laura Vandervoort) to strip down before morphing into the "lone female werewolf in existence." This is so she won't ruin any outfits during the process. Male werewolves also disrobe beforehand rather than rip through their jeans and muscle shirts. We've come a long way since The Incredible Hulk.
Bitten
is mildly diverting while also being pretty goofy in spots -- even for a werewolf drama. Elena's ex-boyfriend, for instance, just happens to be the world's hunkiest college professor, wowing the co-eds at something called the University of Upstate New York. Clayton Danvers (Greyston Holt) likewise is a werewolf, as is his Alpha brother Jeremy (Greg Bryk).
Elena wants nothing to do with either of them anymore. She's trying to make a new life for herself in Toronto with the dashing and very understanding Philip McAdams (Paul Greene). But a killer "mutt" werewolf is on the loose near the stately Danvers compound in Bear Valley, NY. And Elena just happens to be the best available "tracker." Just when she thought she was out . . .
"They broke a cardinal rule by killing a human for sport. They have to pay for that," says Jeremy, who's also worried that the townies will somehow uncover the big werewolf lair. Really sumptuous breakfasts are served there, with piles of bacon and thick sausages. And Jeremy seems to be happiest when his entire hungry brood is gathered at the same table.
Two episodes were sent for review, and the second one has some pretty nifty gladiator-like training sequences featuring Elena and two male werewolves flipping each other around. But things also tend to drag in spots. So don't get your hopes up when Jeremy vows in Episode 2, "We're going to put an end to this -- tonight."
Vandervoort, probably best known for playing the recurring character Kara in
Smallville
, is suitably sensitive and sultry in the lead role. She's required to both fend off advances and advance the sexual action by pulling the shower towel off a pleased McAdams after spending a good part of the night as a werewolf.
It's unclear how McAdams will fit in, though, now that the killings are escalating in Bear Valley.
"We cannot have 'mutts' being made indiscriminately and unleashed on the world," Jeremy says.
Well, of course not. So Elena's place is with her brood, and Clayton is still very much interested in reclaiming her. Meanwhile, adman McAdams can do little except keep his cell phone charged and await new word on when she might be back. She's so close -- but yet so fur.
GRADE:
C+
Email comments or questions to:
unclebarky@verizon.net