O'Brien's Tonight countdown kicks into full throttle
05/26/09 02:15 PM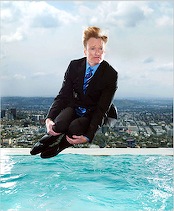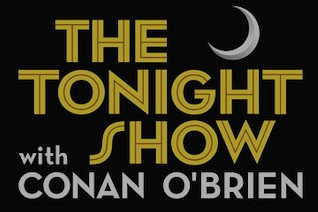 NBC's Tonight Show looms ever larger for heir Conan O'Brien, pictured on the left as a New York Times Magazine cover boy.
By ED BARK
Let the record show that Conan O'Brien isn't a kid anymore, even if acting his age still isn't an option.
Jay Leno had just turned 42 when he took over NBC's storied
Tonight Show
on May 25, 1992. And his predecessor, Johnny Carson, was still a few weeks shy of his 37th birthday when he first helmed
Tonight
on Oct. 1, 1962.
O'Brien, as he manfully volunteered during a teleconference Tuesday, is now 46 years old with two kids after first auditioning as a relative 29-year-old nobody to supplant David Letterman on NBC's
Late Night
.
"I've changed since then, and I expect this show to change me a little bit more," he says of
Tonight
, which will be his starting on June 1st.
He's been off the air since Feb. 20th, but "It has in no way been a break," O'Brien says. Two days after bequeathing
Late Night
to Jimmy Fallon, he began a four-and-a-half week tour of NBC affiliate stations. Then it was on to L.A., where "we hit the ground running" while Leno slowly started to straddle the world between
Tonight
and a new weeknight prime-time show scheduled to premiere in September.
O'Brien, who begins many a sentence with "Ya know, it's funny," has been in the paddock for a full five years after NBC announced its
Tonight
succession pattern. But now the big prize is coming fast, with Leno abdicating on Friday and O'Brien appearing as his last guest before welcoming Will Ferrell and Pearl Jam this Monday.
"If nothing else, it gets me on the
Tonight Show
48 hours earlier," he says of Friday's sit-down with Leno.
O'Brien's
Tonight
will originate from a new art deco-ish studio built on the Universal Studios lot. O'Brien says he told designers that he wanted things to "look elegant" in keeping with the show's generation-spanning history. "The space itself I think should be beautiful . . . I'm a jackass. There's no changing that. But I want guests to look good on this set."
The
Tonight
theme will be "turbo-charged" a bit, he says, with "different horn pieces here and there."
His monologues likely will be shorter than Leno's on most nights. O'Brien's sense of humor is more more attuned to "what visually would look funny," he says. Leno thinks more about "what would be good in a monologue." So expect more sketch humor from the new host, with his old
Late Night
buddy, Andy Richter, regularly in tow.
"People laugh when they just think of me being in Los Angeles," says O'Brien, whose
Late Night
originated from New York for 16 years. So in the early going, look for ample doses of stranger-in-a-strange-land humor, with the pale-skinned, carrot-topped host no more likely to be caught sunbathing than to welcome Joe Piscopo as a guest.
He's pretty much loading up in the first week. Tom Hanks and Green Day are scheduled to pop in on Tuesday, followed by Julia Louis-Dreyfus, Bradley Cooper and Sheryl Crow (Wednesday); Gwyneth Paltrow and the John Mayer Trio (Thursday) and Ryan Seacrest and Chickenfoot (Friday).
Leno's presence in prime-time will mean four nightly doses of comedy/talk on NBC, in addition to O'Brien's competition on CBS, ABC and TBS, which will be launching a new George Lopez talk show this fall.
"I think at some point my show is going to have to morph into a detective show," O'Brien said. "
Murder, She Wrote
with a slightly different demo."
He already misses the "street culture" of New York, where O'Brien regularly walked amid the city's passing parade. "If you walk down the street here, people think you're off your meds."
O'Brien reportedly was as surprised as anyone upon learning that he'd again be Leno's followup act. But there's no rivalry or bad blood, he insists. "He's happy, I'm happy and that's actually been kind of a godsend."
Late Night
staples such as "In the Year 2000." Triumph the Insult Comic Dog, the
Pale Force
misadventures and maybe even The Masturbating Bear are likely to make the transition to
Tonight
, he said. But new bits of course will emerge, with Universal Studios at his full disposal.
""We've been told that anything you want to play with is yours to play with," O'Brien says. "This is like being in one of those McDonald's playlands."
Above all, he'll trust his gut, having learned over the years that "funny is just funny. Stuff that really makes me laugh hard works on other people."
"The worst mistake I could make would be to over-think it," O'Brien says of his overall approach.
In that sense one must still be impetuous -- even at an advanced age as
Tonight
hosts go.