HBO's Bessie: a showcase for Queen Latifah in a serviceable bio pic
05/07/15 11:45 AM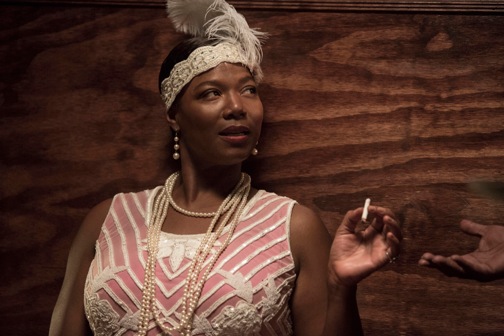 Queen Latifah has the showy title role in Bessie. HBO photo
By ED BARK
@unclebarkycom on Twitter
Pathfinding, larger-than-life African-American entertainers Louis Armstrong and Sammy Davis, Jr. have yet to get a full-blown feature film or TV bio pic.
In the interim, Dorothy Dandridge, Billie Holliday, Ray Charles, James Brown, Michael Jackson, Tina Turner, Josephine Baker and now, Bessie Smith, have been showcased front and center.
That's just an observation, although it's also become something of an injustice. Sometimes it just takes perseverance. And according to HBO publicity materials,
Bessie
, premiering
Saturday, May 16th at 7 p.m. central
, has been 22 years in the making.
The movie charts the ups and downs of a vintage blues singer who died in 1937 at the age of 43.
Bessie
ends on a considerably higher note with her comeback tour after years of heavy drinking and drug abuse. For the record, she died in a car accident while in the company of her lover, Richard Morgan (played by Mike Epps in the film). He was unhurt.
Latifah gives it her all during the course of a cinematically bumpy treatment replete with gauzy flashbacks to Bessie's miserable childhood and some abrupt flash-forwards. During the course of all this, familiar actors such as Charles S. Dutton and Oliver Platt are briefly seen and discarded. They respectively play Pa Rainey, husband of firebrand singer Ma Rainey (Mo'Nique), and Carl Van Vechten, a wealthy writer/photographer who plans to write a book called
Nigger Heaven
. Bessie responds to this by throwing a drink in his face. You go, girl.
Mo'Nique registers far more emphatically as Bessie's first mentor and benefactor. Her performance is first-rate and a match of Latifah's, even though she gets perhaps one-fifth the screen time. The other main supporting characters are Bessie's protective, short-tempered husband Jack (Michael Kenneth Williams); her older brother and road manager Clarence (Tory Kittles); and her long-estranged oldest sister Viola (Khandi Alexander), who ruled the homestead with an iron fist after their mother died at an early age.
When not belting out the blues,
Bessie
depicts its title character as a bedmate of both men and women -- principally a co-performer named Lucille (Tika Sumpter). Latifah also does her first on-screen nude scene, which is meant to underscore her character's overall vulnerability, she has said in interviews. It's not a fleeting moment. Latifah sits in front of a mirror, removing her wig and eyelashes after a performance that for some reason has left her feeling down and out. The scene happens just like that, and in fact goes on long enough to seem almost as gratuitous as it is daring. Then -- just like that again -- a drunken Bessie is raging at husband Jack and throwing a vase of flowers at him before they get into a physical fight.
Bessie
, buoyed near the end by a convivial, well-played reunion with a sympathetic Ma Rainey, is too often a patchwork collection of scenes and locales. It fleshes out Bessie Smith to a degree but certainly not in full measure. Latifah and Rainey can sure sing out, though. It's a pleasure to watch and hear them wail in a film that otherwise doesn't quite cut it. Now let's get busy on those Louis Armstrong/Sammy Davis Jr. films. Both are long overdue.
GRADE:
B-minus
Email comments or questions to:
unclebarky@verizon.net