Showtime's Gigolos gives sex a sordid name -- but doesn't scrimp on it
04/06/11 01:09 PM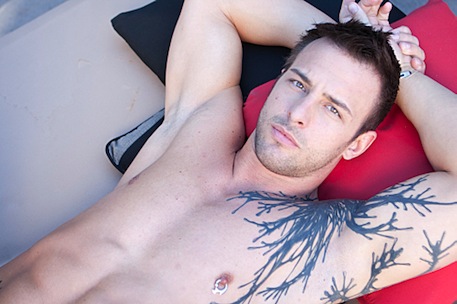 Tatted Nick whips it out on the new series Gigolos. Showtime photo
Premiering:
Thursday, April 7th at 10 p.m. (central) on Showtime
Starring:
Nick, Steven, Brace, Jimmy and Vin
Produced by:
Tom Forman, Jay Blumenfield, Tony Marsh, Alex Campbell, Shane Walker, Richard Grieco
By ED BARK
Sodom? Gomorrah? So yesterday.
In the here and now, Showtime is going to go ahead and premiere
Gigolos
, whose "Working Stiffs" publicity tagline isn't kidding.
Paired on Thursday nights with the final season of the scripted
Secret Diary of a Call Girl
, this cock and bull concoction stars a quintet of purportedly real-life, Vegas-based studs employed by "the largest straight male escort companion company in the United States."
And "business has never been better," crows its proprietor, Garren James.
As immediate proof, Nick shows off his member while showering before heading off to bed a schoolteacher client named Rebecca. She reasons, "It's time that I just had some fun."
And so they do, at the rate of $550 per two hours of Nick's time. Both parties are fully naked and there's no effort to hide her identity. So if she's really a teacher, well, some local newscasts somewhere are soon going to have ready-made lead stories for their late night editions.
It's hard to know how much of
Gigolos
is "real," though. Even though Showtime's website has bios of all five male principals, including divorced Steven from Texas, who has a five-year-old son.
Steven both uses his tool and is a tool. He gets weepy in Episode 2 when talking about how badly he wants to placate his ex-, provide for his son and satisfy the kid's latest desire to go to a "posh" camp. Then he mans up and pleasures a plus-sized client whose body basically revolts him. She's a medical assistant named Valerie who also consents to let the cameras roll while she strides in topless before letting Steven approach her from behind. And so on.
Printed disclaimers at the end of episodes say that "no one depicted in this program was remunerated in exchange for engaging in sexual activity."
It's also stated that "records attesting that all visual depictions in this episode . . . of actual sexually explicit conduct are of persons who were over 18 years of age at the time the depictions were created."
So if they were created, is anybody really for real? As with its far less sexually explicit
The Real L Word
, Showtime insists these are genuine articles at work and at play.
"We're competing with each other 24/7," says Nick. Besides Steven, their "family" includes bragging Brace ("I've had so many women in my life, it's just a blur"); straightforward Jimmy ("Being a gigolo isn't always easy") and newcomer Vin, who just happens to bear a more than passing resemblance to actor Vin Diesel.
Vin is described in publicity materials as "an exotic ethnic mix of French, Black and Latin." So he's proud to break the "color barrier" and join the "vanilla" gigolo crew. "There's Rosa Parks, Jackie Robinson and now Vin Armani," he says at the end of Thursday's premiere episode. Laugh, cry, kiss your brains goodbye.
Other activities in the initial two episodes include Jimmy doing it with a woman on her birthday while her husband watches in approval. "The nastier the better," he urges. Next week, four of the gigolos visit a psychic, where Brace starts bawling at the thought of his barren future.
The same quartet is soon gathered at another client's house, though, joining a lone woman for a four-way as a selfless group gesture to raise money for Steven's son's camping trip. Brace just can't bring himself to participate, though, telling the camera that "I couldn't have gotten it up with a crane for that girl." This later prompts an argument with the willing rookie, Vin, who compares it to three men digging a ditch while the fourth just lazily stands there and watches. Their nurse client pronounces herself highly satisfied anyway.
Laughable? Yeah. Pathetic? Even more so. Degrading? That, too. Entertaining for consulting adult viewers who pay extra for such premium cable fare? Possibly.
Gigolos
goes farther than any "reality" series ever, although HBO's
Real Sex
certainly has been in there punching for more than two decades now. And for the record, Vin considers himself "a real feminist."
If so, he's an even better actor.
GRADE:
C-minus