Dallas-incubated Jim Lehrer leaving PBS' Newshour (save for occasional drop-ins) after a 36-year tenure
05/12/11 10:07 AM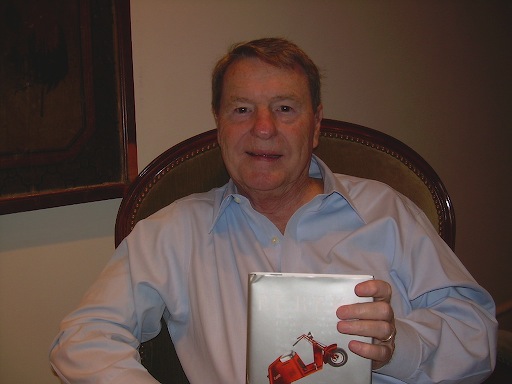 Jim Lehrer during October 2007 stop in Dallas. Photo: Ed Bark
By ED BARK
In a year marked by notable network news evacuations, here's another big one.
Jim Lehrer, who learned the journalism trade in Dallas before going national to PBS, announced Thursday that he's stepping down as the signature anchor of
The PBS Newshour
. It will mark the end of 36 years of either anchoring or co-anchoring public television's flagship news program, which began as
The MacNeil/Lehrer Report
with colleague Robin MacNeil.
As of June 6th, he'll no longer be part of the daily anchor rotation team, but still plans to participate on recurring Friday evenings as moderator of the weekly news analysis segment with Mark Shields and David Brooks. The nightly anchors on
Newshour
will be a carousel of Gwen Ifil, Judy Woodruff, Jeffrey Brown, Ray Suarez and Margaret Warner, all of whom are already in place.
"I have been laboring in the glories of daily journalism for 52 years -- 36 of them here at the
Newshour
and its earlier incarnations -- and there comes a time to step aside from the daily process, and that time has arrived," Lehrer said in a statement.
Lehrer, a native of Wichita, Kansas who will turn 77 on May 19th, also has moderated a record 11 presidential debates and written numerous novels. His first, 1966's
Viva Max!
, became a feature film and was penned during his formative years in Dallas. Lehrer worked for both
The Dallas Morning News
and
The Dallas Times Herald
before joining KERA-TV (Channel 13) in 1970 to anchor the station's groundbreaking, in-depth
Newsroom
program until 1973.
During a late
2007 trip to Dallas
tied to his 17th novel,
Eureka
, Lehrer recalled an early lesson in journalism while he was a cub reporter for the
DMN
. In an obituary, he got the deceased's name confused with the funeral director's, Lehrer told unclebarky.com. A stern editor then stepped in.
""I was told, 'Little boy, the most important thing in this newspaper are the obituaries. And you'd better get the names right or we ain't got a job for you.' "
Lehrer had moderated 10 presidential debates at the time
Eureka
was published. And he said there'd be no more because "I've done my duty for my country. I've done 10 of these things, and they're scorching to the soul. So I'd just as soon not do any more."
He ended up doing one more anyway -- the first 2008 encounter between Barack Obama and John McCain.
"You bastard!" he retorted (good-naturedly) in a telephone interview in which his earlier words were read back to him. "You're never supposed to remember what anybody says. Remember what else they they used to say? 'Never mind.' "
Lehrer said he changed his mind because "they asked me. I just feel that anybody who's asked to do that has to do it unless they have a damned good reason not to. And I just didn't have one. The reason I gave to you, that I've got a scorched psyche, just didn't seem good enough to me -- then or now."
His mantra, throughout his long tenure on
Newshour
, is that "people want that first story straight as an arrow. Before they start shouting and making jokes, just tell us what the (bleep) happened."
That's what Jim Lehrer did -- perhaps better than anyone. And now he's pretty much done.