David Alan Grier paints it black in Comedy Central's Chocolate News
10/15/08 12:10 PM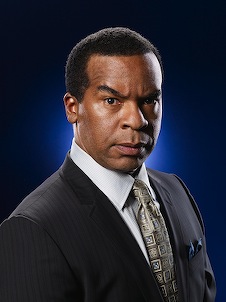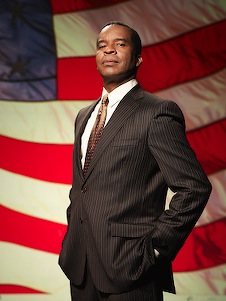 David Alan Grier strikes poses as anchor of Chocolate News.
Premiering:
Wednesday, Oct. 15th at 9:30 p.m. (central) on Comedy Central
Starring:
David Alan Grier
Produced by:
David Alan Grier, Robert Morton, Fax Bahr, Adam Small
By ED BARK
Anchor David Alan Grier promises uncompromising dark comedy on the new
Chocolate News,
touted as "the only source for pure, uncircumcised realness from an Afro-centric perspective."
He's pretty much got the premise right. Comedy Central's
Chappelle's Show
is long gone, leaving a space that the former
In Living Color
alum hopes to fill in with all due outrageousness.
Wednesday's opening half-hour, the first of 10 scheduled weekly episodes, is hardly comedy gold. Nor is it a cheap counterfeit. Grier makes some inroads, particularly with his costumed impression of a grandiose Maya Angelou spouting portions of a rough draft poem she hopes to recite at Barack Obama's inauguration.
She's far less prepared for a John McCain swearing-in. And "Ain't this a bitch?" isn't much of a start.
Grier doesn't have a news desk. His anchor does standup, beginning with a heavily-bleeped rap on what he sees as the death of hip-hop. 50 Cent, for one, lately is pitching vitamin water. In Grier's view, "That's like Jerry Lewis saying, '(bleep) those (bleepin') kids. This weekend I'm barbecuing.' "
A subsequent sketch that wears thin in a hurry, with Grier disguising himself as a rap artist named Phat Man. He booty pops his way through a public service spot for "No Child Left Behind" before using the same approach on behalf of "Teen Suicide Prevention."
There's also a tribute to late special correspondent Roger Dunn, the "only drop of Vanilla" in the
Chocolate News
mix. A highlight reel finds him on the receiving end of assaults and punch-outs from black gangs and gangstas. But he always got the story.
Also included: an extended, leaden bit on a "multi-epithet mega-trade" for free use of the n-word and some closing newsreel footage of America's long-forgotten first black candidate for president, straw-hatted Lucius Trenton Johnson. He perhaps miscalculated by announcing his intentions in the Deep South, viewers learn. "Unfortunately," says Grier, "his campaign lasted just seven-and-a-half minutes."
Chocolate News
has roughly the same amount of at least passably amusing material. But it's a start and a welcome addition to a network that's already thriving on Anglo-centric news spoofs.
GRADE:
C