CBS repeats its summertime success -- again with mostly repeats
07/22/09 09:49 AM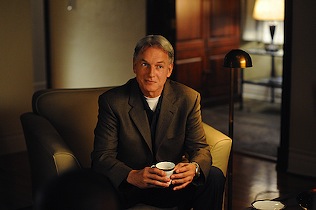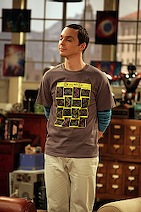 Mark Harmon of NCIS and Emmy nominee Jim Parsons of The Big Bang Theory. Their summertime repeats are thriving. CBS photos
By ED BARK
This bears repeating. CBS leads all networks in total viewers this summer despite filling most of its prime-time lineup with crime and comedy reruns.
What's more, it's the only network to show a year-to-year increase while rivals ABC, NBC and Fox all are enduring double-digit decreases.
This is especially vexing for ABC and NBC, who rely far more heavily than CBS on new reality and scripted programming. Fox, which programs seven fewer weekly hours than its competitors, has been less ambitious on the first-run programming front. But it still banks heavily on
So You Think You Can Dance
and launched new episodes of
Hell's Kitchen
this week.
CBS, sticking to its usual hot weather game plan, again brought
Big Brother
back earlier this month. But its biggest summertime audience grabbers have been repeats of
NCIS, The Mentalist
(on both Tuesdays and Thursdays),
Two And A Half Men, The Big Bang Theory, CSI: Miami, CSI: NY
, just plain
CSI
and
Criminal Minds
.
All told, CBS has 11 of the 20 most-watched series through the first eight weeks of the summer season. It's averaging 7.024 million viewers so far, an increase of 1 percent over last summer.
That might not seem like a lot, but ABC, NBC and Fox would love to say as much. The No. 2 Peacock is drawing 5.419 million viewers (down 11 percent year-to-year), followed by Fox's 5.207 million (down 19 percent) and ABC's 4.958 million (down 11 percent).
"Summer repeats work on several levels for building program franchises," CBS senior vice president of communications Chris Ender says in an email response. "Popular shows can turn into hits in the fall after more people discover them in June, July and August. You can ease shows into their new time periods for fall, like we're doing now for
The Mentalist, The Big Bang Theory
and
How I Met Your Mother
. And it's important to remember that even passionate fans sometimes only see two out of four shows a month during the regular season."
That's only half the story. Even more important to CBS is its summertime revenue picture. CBS executives won't comment on the record, but confirm that an old economic reality remains in place when it comes to a network's overall bottom line. Namely, networks collect virtually all of the revenue on repeats of their series. Not so with first-run episodes, where much if not all of the money coming in goes right back out to pay production costs.
This is especially true of scripted programming. And CBS has found, to its great advantage, that "procedural" crime dramas in particular repeat far better than serialized hours such as ABC's
Grey's Anatomy
and
Private Practice
.
Last week's national Nielsen ratings (July 13-19) were typical. On Thursday at 9 p.m. (central) for instance,
The Mentalist
in what will be its new fall time slot drew 8.37 million viewers opposite
Private Practice
, on a respirator with just 2.917 million viewers.
NBC has prospered with its Tuesday and Wednesday episodes of
America's Got Talent
, plus preceding repeats of the show on both nights. But its other first-run programming has gone clunk, including a series of Sunday night disaster miniseries and weekly episodes of
Merlin, The Philanthropist, Kings
and
The Listener
, which recently was dropped with five new episodes to go. Earlier this summer, the Peacock flailed about with an extended run of
I'm A Celebrity . . . Get Me Out of Here
.
ABC has done all right with new episodes of
Wipeout
and
The Bachelorette
, but bombed with the likes of
The Superstars, I Survived a Japanese Game Show, Better Off Ted, The Goode Family
and burn-off new episodes of
Pushing Daisies, Eli Stone and now Dirty Sexy Money.

Fox's So You Think You Can Dance generally inches into the weekly top 20 despite getting hammered on Wednesday nights by America's Got Talent. The network's new Mental is largely invisible from a ratings standpoint.

Fox still leads the summertime competition among advertiser-coveted 18-to-49-year-olds. But CBS again is easily faring the best from a year-to-year standpoint. The network is down 6 percent among viewers of this age range, compared to a 21 percent shortfall for Fox, a 16 percent dip for NBC and an 11 percent decrease for ABC.

In the latest ratings week, topped by Fox's coverage of baseball's All-Star game, CBS nonetheless had 15 of the top 30 programs in total viewers and 12 of the top 30 among 18-to-49-year-olds. That's money in the bank for a network that still drives the "old model" while rivals try to soup up their engines and mostly keep sputtering.