Back in play -- after the play
11/02/09 02:32 AM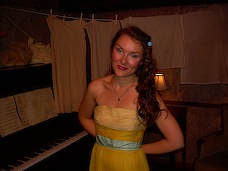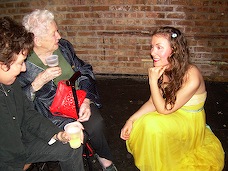 Daughter Liz after her play and with playgoers. Photos: Dad
We're back from Chicago, where daughter Liz Ladach-Bark directed the original play
1512 West Studebaker Place
at Prop Theater. Obviously it was a trip well worth making.
Back in the real world, October heads to the archives as new November posts appear. You can catch up with last week's Tuesday-Thursday D-FW Nielsen ratings -- which include the first day of the November "sweeps" -- by going
here
,
here
and
here
.
Also, my latest "Media Matters" piece for
D CEO
magazine is newly available. It's an up-close look at CBS11/TXA21 president-general manager Steve Mauldlin. A link and a picture are
here
. Plus, Season 8 of Fox's
24
is coming soon, with Jack Bauer taking on a role besides terrorist fighter. Go to our
Network News & Reviews
page for the first official trailer.
Thanks as always for reading, and for checking out our advertisers. As the Christmas season draws near, support unclebarky.com by clicking to amazon.com via this site before buying your gifts. Amazon in turn will funnel 4 percent of each purchase to this website. It adds up very slowly, but is genuinely appreciated.
Ed Bark