Will Lost find a way? The climactic Season 6 is ready for takeoff
02/01/10 02:26 PM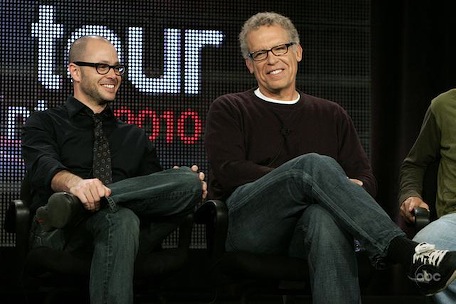 Lost exec. producers Damon Lindelof, Carlton Cuse serve appetizers at last month's TV Critics Association "press tour" in Pasadena.
By ED BARK
The
Lost
bandwagon has lost much of its load over the years. Year by year, former fans of ABC's magical mystery tour have dropped out rather than re-puzzle their way through.
Even co-executive producer Damon Lindelof admits that
Lost
has "jumped the shark" numerous times during the twisted, knotted course of its first five seasons. You can read all about this in an extended piece I wrote for
locatetv.com
after the show's maestros and stars met with TV critics for the last time during January's midseason TV "press tour" in Pasadena.
Those of us who have stayed the course are -- of course -- eagerly anticipating Tuesday night's launch of
Lost
's sixth and final season. A two-hour episode (
8 p.m. central
) will be preceded by a one-hour refresher course that might make things a little easier to comprehend.
However it all ends,
Lost
is fated to be debated for decades to come on the web, at fan conventions or wherever else inquiring minds gather to dissect its innards. Co-executive producers Lindelof and Carlton Cuse have vowed to answer a lot of questions, leave a little mystery and stay away from an abrupt
Sopranos
-like blackout that left many viewers initially wondering whether the trouble was with their sets.
It's also more or less guaranteed that the entire
Lost
adventure won't be a wildly careening dream or the product of a very vivid imagination.
I'm in until the end, and happily so. Whatever its faults,
Lost
is a singular achievement in the broadcast TV realm, with ABC commendably along for the ride. We're unlikely to see the likes of
Lost
again. Many are OK with that. But for those with continuing long-term investments, Tuesday night marks the start of the last
Lost
payout.
Below are two appetizers -- a condensed Season 5 "Starter Kit" and a one-minute Season 6 preview that for the first time includes a smattering of upcoming footage.