05/17/11 08:15 AM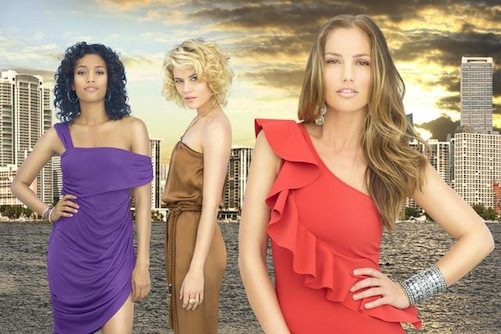 Former Friday Night Lights star Minka Kelly (right) is now an Angel.
ABC photo
By ED BARK
Struggling ABC will go more than a little sex-centric next season with a new version of
Charlie's Angels
, a throwback drama celebrating the curvy stewardesses of the 1960s and the "wicked"
Good Christian Belles
, a backbiting Dallas-set soap that likely won't premiere until spring.
Seven fall newcomers were announced Tuesday morning by ABC entertainment president Paul Lee, who also has six freshman series on the bench awaiting berths.
Besides pulchritude, ABC is selling a semblance of its old TGIF family-friendly comedy bloc, with former
Home Improvement
star Tim Allen returning to the network to play an outwardly manly sporting goods store marketing director whose home life is dominated by his wife and their three daughters. Allen's
Last Man Standing
will lead off Tuesday nights in tandem with another first-year laugher,
Man Up
.
Lee twice called
Charlie's Angels
"pure candy" during a brief presentation to TV writers in New York, with out-of-towners invited to listen in. ABC's trio of new sitcoms, bringing the total to six for this fall, underscores his belief that "the winds are blowing behind comedy," he said.
Ill winds blew last fall, with all five newcomers canceled. That quintet of
No Ordinary Family, Detroit 1-8-7, Better With You, The Whole Truth
and
My Generation
is joined by
V, Mr. Sunshine, Off the Map, Supernanny
and, after five seasons,
Brothers & Sisters
.
ABC also is moving
Extreme Makeover: Home Edition
from its long-held Sunday perch to Fridays, where it will lead off an entire night of unscripted programming in league with
Shark Tank
and
20/20
. The previously renewed
Cougar Town
will sit out the fall and return sometime in midseason.
Good Christian Belles
, adapted from the novel
Good Christian Bitches
, had its pilot shot in Dallas earlier this spring. But the series will be filming in either Los Angeles or New York, co-star Kristin Chenoweth said Monday on the Fox News Channel's
Fox & Friends
.
There will be ample time to decide, with
Good Christian Belles
not a part of ABC's announced fall lineup. That's not necessarily a bad thing. Two of last fall's originally announced newcomers,
Body of Proof
and
Secret Millionaire
, instead were pushed back to the spring, where their strong ratings have resulted in second seasons for both series. Another late-season starter, the comedy series
Happy Endings
, also has been picked up for a sophomore year.
Millionaire
won't be back until midseason or later while the other two returnees both made the fall cut.
"What you launch throughout the year is just as critical," said Lee. That's the norm in the world he came from, namely the ABC Family channel. He praised
Good Christian Belles
as "grounded" but also "gloriously funny."
Here are ABC's fall season newcomers:
Charlie's Angels
(drama) -- It's a new venue (Miami) and new monikers for the three Angels (Eve, Abby and Kate). Former
Friday Night Lights
star Minka Kelly plays Eve, a "street racer with a mysterious past" who joins the team after Angel Gloria dies in the line of duty. Ramon Rodriguez from
The Wire
is the new Bosley. Robert Wagner did the voice of the unseen Charlie Townsend in the pilot, replacing the late John Forsythe. But he's not listed as a cast member in ABC's description of the series. Drew Barrymore, who co-starred in the two
Angels
feature films, is a co-executive producer.
Pan Am
(drama) -- It gets the post-
Desperate Housewives
Sunday slot in place of the evicted
Brothers & Sisters
. ABC says that "the style of the 1960s, the energy and excitement of the Jet Age and a drama full of sexy entanglements deliciously mesh in this thrilling and highly original series." Christina Ricci heads the cast as stewardess Maggie, a "rebellious bohemian" who buttons up on board and stifles herself in order to see the world. Don't worry, though, the crew also includes "flirtatious" Collette, "adventurous" Kate and her beauty queen younger sister, Laura.
Once Upon A Time
(drama) -- Get ready for a "bold, new imagining of the world, where fairy tales and the modern-day are about to collide." Ginnifer Goodwin from
Big Love
plays a transported Snow White who's lately a nun in a New England town known as Storybrooke. Rumplestiltskin, Jiminy Cricket and the Evil Queen also figure in the storyline. Except that they now all have different names and don't remember who they once were. My head hurts.
Revenge
(drama) -- A single young woman bent on settling scores first makes friends and influences people in the wealthy Hamptons. But it's her second coming after a previous stay led to the ruination of her family and their reputation. The best known cast member is Madeline Stowe, whose feature film career included co-starring roles in
The Last of the Mohicans
and
We Were Soldiers
.
Last Man Standing
(comedy) -- Tim Allen stars as a pickup truck-driving, ESPN-watching sporting goods store marketing director who's something of a pantywaist at home in the presence of his strong-willed wife and their three daughters, two of them teens.
Man Up
(comedy) -- "So what happened to the real men? They're still here. They just smell like pomegranate body wash now." So says ABC in describing this tale of three guys striving to get back in touch with "their inner tough guys." There are no big-name stars in the cast.
Suburgatory
(comedy) -- Nestled on Wednesdays between
The Middle
and
Modern Family
, this is the saga of a single dad who relocates from NYC to the surburbs after finding a box of condoms on his 16-year-old daughter's nightstand. Jeremy Sisto (
Law & Order, Six Feet Under
and Jesus in an old CBS miniseries) stars as the vexed father. Cheryl Hines (
Curb Your Enthusiasm
) is also in the cast as a plasticized suburbanite named Dallas Royce.
Here is ABC's night-by-night lineup for the fall, with all times central:
MONDAY
7 to 9 p.m. -- Dancing with the Stars (performance show)
9 to 10 p.m. -- Castle
TUESDAY
7 to 7:30 p.m. -- Last Man Standing
7:30 to 8 p.m. -- Man Up
8 to 9 p.m. -- Dancing with the Stars (results show)
9 to 10 p.m. -- Body of Proof
WEDNESDAY
7 to 7:30 p.m. -- The Middle
7:30 to 8 p.m. -- Suburgatory
8 to 8:30 p.m. -- Modern Family
8:30 to 9 p.m. -- Happy Endings
9 to 10 p.m. -- Revenge
THURSDAY
7 to 8 p.m. -- Charlie's Angels
8 to 9 p.m. -- Grey's Anatomy
9 to 10 p.m. -- Private Practice
FRIDAY
7 to 8 p.m. -- Extreme Makeover: Home Edition
8 to 9 p.m. -- Shark Tank
9 to 10 p.m. -- 20/20
SATURDAY
7 p.m. to closing -- Saturday Night College Football
SUNDAY
6 to 7 p.m. -- America's Funniest Home Videos
7 to 8 p.m. -- Once Upon A Time
8 to 9 p.m. -- Desperate Housewives
9 to 10 p.m. -- Pan Am
ABC also announced these six new midseason series:
Good Christian Belles
(drama) -- Leslie Bibb stars as a former "ultimate high school mean girl" who returns to her hometown of Dallas 20 years later after a scandalous divorce. She has teenage kids now and has changed her evil ways. But will her old running mates "welcome her with open arms or seek revenge?" The aforementioned Chenoweth and TV vet Annie Potts are also in the cast.
Missing
(drama) -- Ashley Judd plays an ex-CIA agent whose son turns up missing abroad. She's determined to find him.
The River
(drama) -- Another missing person is in need of finding. This time it's wildlife expert/TV personality Emmet Cole (Bruce Greenwood), who mysteriously disappears in the uncharted Amazon. Six months later, his wife and son decide to mount a search party.
Scandal
(drama) -- Shonda Rhimes, creator of
Grey's Anatomy
and
Private Practice
, has another idea after this season's new offering,
Off the Map
, went off the air. Ho-hum, it's centered on the "life and work of a professional crisis manager and her dysfunctional staff."
Apartment 23
(comedy) -- Suddenly out of work in New York, a Midwesterner named June (Dreama Walker) tries to make ends meet by working in a coffee shop and taking on a "charming, vivacious roommate with the morals of a pirate." Yo ho ho, James Van Der Beek of
Dawson's Creek
plays himself, with press materials describing him as "snarky."
Work It
(comedy) -- Shades of
Bosom Buddies
, this one's a "high-concept" half-hour featuring a pair of unemployed, "unrepentant guy's guys" who dress as women to get jobs as pharmaceutical reps. "Not only do they pull it off, but they might just learn to be better men in the process," says ABC. One of the guys in drag is Amaury Nolsaco, formerly on the run in
Prison Break
.