12/18/09 06:13 PM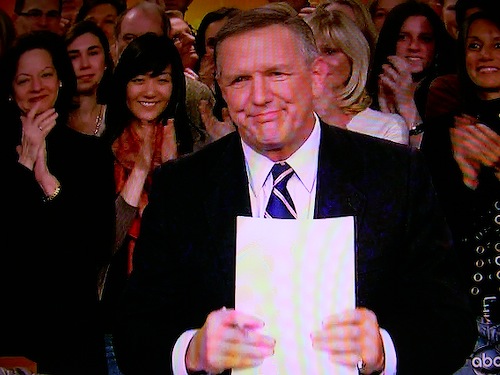 Charles Gibson says goodbye to ABC's World News. Photo: Ed Bark
By ED BARK
Charles Gibson ended his relatively brief reign as anchor of ABC's
World News
Friday, completing the broadcast amid applauding, tearful staffers.
That final image immediately gave way to an on-air promotion for Diane Sawyer, who will take over
World News
on Monday, Dec. 21st.
Gibson began anchoring
World News
on May 29, 2006 after spending 19 years, in two separate tenures, on
Good Morning America
. On Monday of this week, George Stephanopoulos replaced Sawyer as
GMA
's co-anchor.
Gibson, 66, briefly yielded to his emotions before a film clip showed a who's who of dignitaries, including President Obama and the four living former U.S. presidents, saying farewell and wishing him well.
"It's hard to walk away from what I honestly think is the best job in the world," Gibson told viewers. But he said his parents had always told him to "understay, not overstay" his welcome.
"Objectivity is not universally in favor in our business today, but it is critically important," Gibson said, a reference to Fox News Channel, MSNBC and a host of partisan talk radio programs.
World News
must always be relied on to be fair and impartial, he emphasized.
His voice then began to break as he said, "I'm Charlie Gibson, and I hope you've had a good day. I've had so many good days here."
Gibson hinted at a possible early retirement during a
March 2008 interview in Dallas
with unclebarky.com.
"I don't know how long I'll do this, but I'm still having a great time," he said. "It's not as hard as I expected it to be, and this is all like an added chapter that I thought I'd never have . . . But I think I'll know when the time comes. You don't want to stay as long as (David) Brinkley did. David stayed too long. He had a great career, and you've got to know when it's time to leave."
Gibson formally announced his
decision to retire
from ABC News on Sept. 2nd of this year. Sawyer's ascension to
World News
will put women in charge of two of the three longstanding dinner hour network newscasts. She'll be competing with
CBS Evening News
anchor Katie Couric and
NBC Nightly News
anchor Brian Williams, whose program is No. 1 in the ratings.
Gibson brought class and undeniable objectivity to
World News
, which briefly overtook
Nightly News
for the top spot before falling back to No. 2 this year.
Sawyer, who turns 64 on Tuesday, already is the tribal elder of the dinner hour trio, even though in tenure she'll be the junior partner. In due time, it would seem, she'll be replaced by ABC's odds-on heir apparent. That would be Stephanopoulos, who is 48 and clearly would love to have the job.