11/05/07 06:27 PM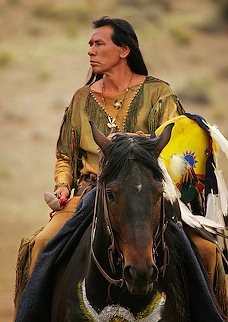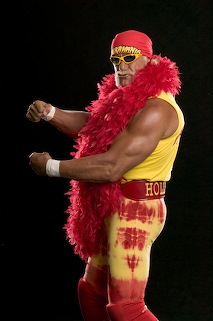 Strike proof: CBS' six-hour Commanche Moon, co-starring Wes Studi (left), is already on DVD discs sent to critics; NBC's announced new version of American Gladiators, hosted by Hulk Hogan, is unscripted.
By ED BARK
Hollywood's writers' strike officially is on. First off are original editions of broadcast and cable networks' late night talk and comedy shows.
It's quite a blow, with NBC, CBS, ABC and Comedy Central all making it official Monday. Repeats immediately are in effect until further notice for NBC's
Tonight Show with Jay Leno
and
Late Night with Conan O'Brien
; CBS'
Late Show with David Letterman
and
Late Late Show with Craig Ferguson
; ABC's
Jimmy Kimmel Live
and Comedy Central's
The Daily Show with Jon Stewart
and
The Colbert Report
.
Daytime soaps will be the next casualties, but prime-time won't be unduly affected in these still early stages of the November "sweeps" ratings period. There are enough completed new episodes of scripted series to last the month before broadcast networks typically go into heavy rotations of repeats and old Christmas specials. That means the first big pinch would be felt in January, with some networks seemingly in much better position than others to withstand a possibly prolonged strike. Here's a quick look at what the Big Four broadcasters have in their arsenals:
FOX
-- It's got a little show called
American Idol
waiting in the wings, and imagine what it might do two or three nights a week against mostly reruns.
Are You Smarter Than a 5th Grader?
is no slouch either, and new episodes easily could fill several additional hours a week. And
Don't Forget the Lyrics!
Fox hasn't.
The network also has Super Bowl XLII in its corner and can fill out the early days of January with BCS Championship college football games, to which it owns exclusive rights. There's this, too. Fox has reality TV maestro Mark Darnell in its executive chambers. He's a whiz at churning out unscripted programming, and there's a bottomless cesspool of it out there. Another advantage: Fox programs seven fewer hours a week than its rivals. That's gonna help a lot if the strike drags on.
The network's biggest unknown is
24
, which has only a handful of episodes completed. Do you start it knowing you quickly might have to stop it? Probably not.
CBS
-- The six-hour
Commanche Moon
, a prequel to Larry McMurtry's classic
Lonesome Dove
, is already completed and in TV critics' hands. It was supposed to air opposite college football games on Dec. 30 and Jan. 1-2. CBS might well have to rethink that strategy if the strike persists.
The network also has the still-resilient
Survivor
franchise, and perhaps could fire up another edition of
Big Brother
instead of waiting for summer. That could eat up a lot of prime-time hours, and at a very cost-efficient price tag.
At least two prime-time game shows, the Drew Carey-hosted
Power of 10
and a new version of
Password
starring Regis Philbin, stand ready to be deployed. But CBS is heavily reliant on high-powered scripted crime shows, several of which serve as super-potent lead-ins for late night local newscasts. Knocking then all into reruns would be a serious blow. Then again, the
CSI
franchise,
Without A Trace
and other mostly self-contained police "procedurals" repeat far better than serial dramas.
NBC
-- Most of its new and returning scripted series are struggling if not dying in the Nielsen ratings. So in a way NBC might welcome the chance to make a big splash with reality programming.
Deal or No Deal
clearly would get multiple nights, and the Peacock also has a new version of
American Gladiators
in production.
A celebrity version of Donald Trump's
The Apprentice
already has been greenlighted, as have new episodes of
1 vs 100
. A new Dennis Miller-hosted game show,
Amne$ia
, was announced last week and likely will be fast-forwarded into production. Also, might NBC execs seriously consider an early return for summer's biggest hit,
America's Got Talent
? Damn right they would.
Other NBC reality series such as
Biggest Loser
and
Singing Bee
have been slumping this fall, but could serve as ports in a strike storm. The Peacock has unscripted football in play on Sunday nights for the rest of this year. Previously announced reinforcements in January are
Law & Order, Medium
and the new
Lipstick Jungle
. It's uncertain how many Sundays they could fill before completed episodes run dry.
ABC
-- Bring on the celebrity hoofers and hunky single dudes. The Alphabet network profitably could fill lots of prime-time hours early next year with
Dancing with the Stars
and
The Bachelor
. It also has the previously announced
Dance War: Bruno vs. Carrie Ann
in the wings. In-show promotions on
Dancing with the Stars
now likely will only intensify.
ABC has at least one big movie, the long-completed
Raisin In the Sun
, awaiting a late February premiere. Maybe it will move up. And it's still sitting on
Oprah's Big Give
, a planned eight-episode reality series gifting worthy recipients with lotsa stuff.
Extreme Makeover: Home Edition
and
America's Funniest Home Videos
also are immune to the strike.
As does Fox, ABC has a big-ticket serial drama in
Lost
. Sixteen episodes are supposed to air without interruption, beginning sometime in midseason. Again, though, would you start knowing you might have to stop?
The questions will keep coming unless both sides kiss and make up in a hurry. The
last writers' strike,
in 1988, lasted 22 weeks, though. And as one strike captain has said of this one, "Once it starts, it's going to get ugly."