05/29/09 11:51 PM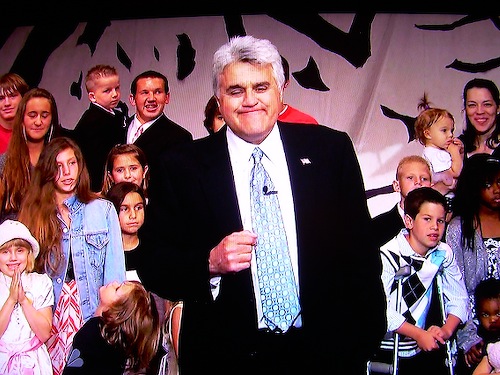 All my children: Leno ends Tonight reign amid his staff's kids. "So that's what I would like my legacy to be," he says. Photo: Ed Bark
By ED BARK
Jay Leno bowed out with little fanfare Friday night, ending his 17-years as
Tonight Show
host by calling attention to the children born to his staffers during that period.
"I think it's the greatest thing we've ever done on the show," he had said earlier, urging viewers to hang with him until the very end.
At the very least it was quite a nice touch. Leno initially introduced the show's first-born, a 17-year-old named Hannah who's the daughter of the
Tonight
band's trombone player. How many more births have there been, he wondered, before a curtain parted to show a grand total of 68 kids gathered behind him.
"So that's what I'd like my legacy to be," he said, showing just a bit of the emotion he had kept in check all night.
Leno and his wife, Mavis, seen fleetingly in the studio audience, are childless by choice. But they won't lack for a TV home. Leno's departure, after all, will be short-lived. He'll return in the fall with a weeknight prime-time NBC show leading into late night newscasts and then to Conan O'Brien's
Tonight Show
, which premieres Monday.
So Leno's final words were hardly final. "Goodnight. We'll see you in September," he said after urging support for O'Brien.
His last
Tonight
began with a prolonged standing ovation from the studio audience before the monologue kicked in. Leno took one more jab at his downtrodden network, noting that "I'm going to be going to a secluded spot where no one can find me -- NBC prime-time."
Until late last year, it looked as though Leno would be going to a rival network after NBC chose O'Brien to carry the
Tonight
baton rather than lose him as it did David Letterman. But the Peacock's stunning about-face restores Leno to the catbird seat and again positions O'Brien as his followup act.
No one knows how that'll all shake out. But Leno and O'Brien, his final sit-down guest Friday, are blessing each other for now.
O'Brien said that everyone keeps telling him, "You've got big shoes to fill . . . Someday in my career I want to fill little shoes."
Leno dusted off an old clip, from April 26, 1993, in which an utterly unknown O'Brien popped onto
Tonight
just hours after being named as Letterman's successor on NBC's
Late Night
.
"If there's anything that's fun to do, it's replacing legends at NBC," said Leno, who less than a year earlier, on May 25, 1992, had succeeded Johnny Carson on
Tonight
.
In truth, O'Brien won't be replacing a legend this time. Leno instead is a very capable and relatable show business everyman who kept
Tonight
on top of the ratings after Letterman led in the very early going.
"I couldn't be happier," he told O'Brien Friday night before escorting him offstage. "You were the only choice. You were the perfect choice."
His pro forma praise was then interrupted by a loud "Conan rocks!" from the studio audience.
"I agree. Conan rocks," Leno said at a much lower decibel level. Imagine someone yelling, "Leno rocks!" on Johnny's last night. Impossible.
Carson was memorably serenaded by Bette Midler down the homestretch of his
Tonight
reign. It brought him to tears.
Leno made do with James Taylor singing "Sweet Baby James" from the stage before the host went over to hug him. He had requested the song, which meant a lot to him as a young man, Leno said. "He (Taylor) really had to move heaven and earth to be here."
Ratings for Leno's last
Tonight
almost assuredly will spike upward. But the earth didn't move the way it did for Carson's closing weeks. Times have changed, and there's a lot more television out there than there used to be. Leno's
Tonight
years were profitable for NBC and for the magnanimous host as well. But Leno has yet to be venerated and probably never will be. Even the late Carson made it very apparent that Letterman was his guy.
Leno joked near the end that "I get my security deposit back" for keeping
Tonight
No. 1 before passing the torch to only the fifth permanent host in the storied show's history.
Saturday night will find him in Atlantic City, grinding away as always while preparing to step back into the TV ring this fall in what could be a debacle or a pure genius of an idea. Whatever happens, Leno will always answer the bell. On Friday, he exited the
Tonight
arena graciously, a 59-year-old ratings champ who still has much to prove.