09/19/08 01:14 PM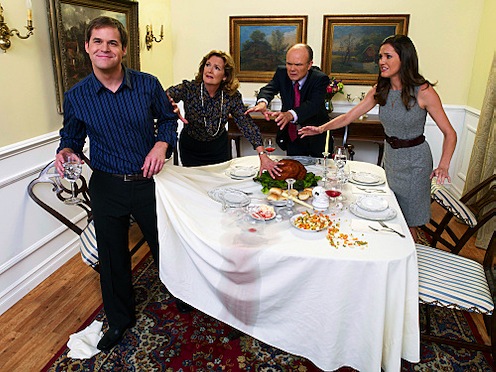 What a fine mess Worst Week makes -- at least on opening night.
Premiering:
Monday, Sept. 22nd at 8:30 p.m. (central) on CBS
Starring:
Kyle Bornheimer, Erinn Hayes, Kurtwood Smith, Nancy Lenehan
Created by:
Matt Tarses
By ED BARK
Loosely put,
Meet the Parents
meets
Everybody Loves Raymond
in a new CBS comedy that otherwise is something of a square peg.
That's largely because the often very funny
Worst Week
dares to work without a safety net -- no laugh track -- on a network where canned giggles are virtually in the drinking water. Monday night's three preceding returnees --
The Big Bang Theory, How I Met Your Mother, Two and a Half Men
-- are all thus equipped.
Worst Week
is the first CBS fall comedy to go
au natural
since -- damned if I can remember. It's akin to Woody Allen trying to survive on
Big Brother
. He'd be laughed out of the house.
The newcomer's creator is Matt Tarses. His principal credits have been as a co-producer on two critically acclaimed but ratings-starved comedies --
Scrubs
and
Sports Night
.
Worst Week
, intendedly a comedy of errors, is built around a budding bride and groom with a baby on board.
Sam Briggs (Kyle Bornheimer) and Melanie Clayton (Erinn Hayes) haven't yet clued her parents in on their marriage plans let alone her six-week pregnancy. And nothing ever seems to go remotely well when Sam is in close proximity to Dick and Angela Clayton (Kurtwood Smith, Nancy Lenehan).
"Last time I was there, I burned down their house," gun-shy Sam recalls as they plan to break news on both fronts. It goes only marginally better this time, with our dogged sad sack arriving very late to dinner in makeshift garbage bag briefs after some post-traumatic stress from an office party.
Smith, playing the prospective father-in-law, already is etched in stone as cantankerous, browbeating Red Foreman from many seasons of Fox's
That '70s Show
.
He looks even sterner here, but doesn't really erupt in Monday's premiere. There's good reason for that, but to elaborate would ruin things. Let's just say that Dick Clayton finds himself with a little down time shortly after deadpanning, "I'm just gonna rinse the urine out of my hair, and I'll be off."
Worst Week
takes a while to build up steam, lurching a bit enroute. Characters sometimes seem way too accepting of what's befallen them. But it ties together in the stretch run for viewers willing to hang in there.
Doing this every week will be a big challenge, though.
Worst Week
risks being a one-trick pony if Sam Briggs is fated to make a hapless horse's ass of himself in each and every episode.
Asking viewers to laugh under their own power can only make it tougher. A CBS audience is used to first getting goosed.
Grade:
An A for effort and a B for execution.