10/29/10 08:11 AM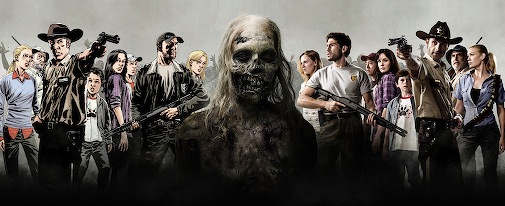 Premiering:
Sunday, Oct. 31st at 9 p.m. (central) on AMC
Starring:
Andrew Lincoln, Jon Bernthal, Sarah Wayne Callies, Laurie Holden, Steven Yeun, Jeffrey DeMunn, Chandler Riggs, Lennie James, Adrian Kali Turner
Produced by:
Frank Darabont, Gale Anne Hurd
By ED BARK
"Bites kill ya. The fever burns ya out. But then after awhile, you come back."
There you have it. AMC's
The Walking Dead
, its fourth original series, takes Robert Kirkman's ongoing, same-named comic book series to the extreme limits of advertiser-supported television. Not sexually, but violently. A "zombie apocalypse" is not for the faint of heart. And Halloween night's 90-minute premiere is replete with kill shots to exploding, decomposing heads. A bullet to the brain is the only way to take a zombie out. And there are thousands of them roaming the ravaged landscapes of
The Walking Dead
.
How did it come to this? Well, it just did. Viewers of AMC's adaptation and readers of Kirkman's comic books simply have to accept the premise and buy into an aftermath that pits gaggles of survivors against hordes of flesh-eating zombies. It's kind of like the Democrats vs. the Republicans. Only tamer.
The star survivor is small town Georgia sheriff's deputy Rick Grimes (Andrew Lincoln). In an early scene, Grimes and partner Shane Walsh (Jon Bernthal) commiserate at length about the women in their lives.
Anyone with a "pair of boobs" knows nothing but the 'On' switch when it comes to conserving energy, Walsh grouses. On the other hand, "this same chick, she'll bitch about global warming."
Grimes' concerns run deeper. Lately, his wife Lori (Sarah Wayne Callies), is angry at him all the time. Recently, in front of their son, Carl (Chandler Riggs), she even wondered if "he cares about us at all." A man would never say something that cruel, Grimes contends, apparently living in a dream world that soon will become a nightmare. (File this conversation away because it has a bearing on future developments.)
The Grimes-Walsh repartee is interrupted by a police call. Some bad guys are on the loose and Grimes ends up on the receiving end of two slugs that put him in a prolonged coma. He awakens to find his hospital and its surroundings infested by zombies and assorted rotting corpses. And so the meat of the story begins, with Grimes spending considerable time on screen as
Walking Dead
's only fully functioning character before he finally breaks down and cries.
This is powerful if initially perplexing stuff, with Grimes eventually encountering a surviving man and his young son. Former
Jericho
co-star Lennie James is terrific as Morgan, whose wife has been bitten and is now among the ravenous walking dead. Survivors have been told to go to Atlanta, site of the Centers for Disease Control. But Morgan still can't bring himself to go -- nor to put a slug in his wife's brain to end her misery.
There are some hugely impressive money-on-the screen images here -- and also a gut-wrenching sequence in which Grimes and Morgan separately make life or death decisions -- death being an operative word.
Walking Dead
's imposing production values are underscored by panoramic shots of Grimes riding into Atlanta on a surviving horse before encountering a mega-swarm of zombies. He's in extreme jeopardy as Sunday's 90-minute pilot episode signs off with a stunning overhead shot.
Episode 2, one of six initially ordered by AMC, is demonstrably smaller in scope but no less graphic. It puts Grimes in close quarters with a small group of fellow survivors who periodically venture into Atlanta in search of life-preserving provisions. It's probably best not to watch on a full stomach, given the means by which Grimes and young Glenn (Steven Yeun) try to escape a department store besieged by flesh-eaters.
Walking Dead
risks being a one-note survival of the fittest gore extravaganza. But character development and other intriguing plot twists are coming soon, at least in terms of what's already transpired in the comic books since
Kirkman birthed them
in 2003.
In just the past four years, AMC has reinvented itself as the Emmy-winning network of
Mad Men, Breaking Bad
and
Rubicon
rather than the place where movies are aggravatingly interrupted by commercials.
Walking Dead
is another very ambitious and provocative series. Let's see if it has legs. At the very least, it's got a lock on the Emmy for makeup.
GRADE:
B+