06/27/08 03:01 PM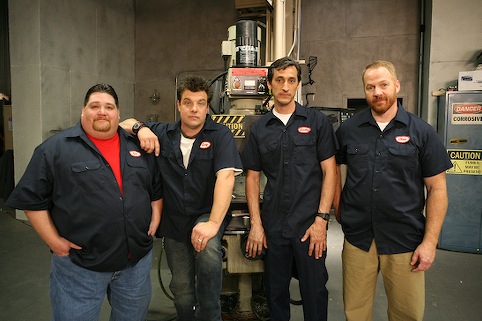 Factory hounds Gus, Gary, Smitty and Chase
Premiering:
Sunday, June 29th at 9 p.m. (central) on Spike TV
Starring:
Mitch Rouse, Michael Coleman, Jay Leggett, David Pasquesi, Mark Beltzman, Rick Hall, Christopher Allen Nelson, Eliza Coyle, Tracy Foley
Produced and directed by:
Mitch Rouse
By ED BARK
Comedy isn't pretty, and
Factory
is both smart and dumb enough to know this.
Not that you were expecting fine cuisine from Spike TV, which targets a young male audience with an array of keg party fare.
Factory
, arriving Sunday as the network's first homegrown scripted comedy series, turns out to be more than a mere guilty pleasure. Loosely scripted and largely improvised, it beats to the drums of noisy, broken-down cars, dismal, dead-end jobs and a quartet of coarse yet resilient sad sacks whose lives barely scrape along.
Working without a net -- a k a laugh track -- the first two episodes are more than amusing enough to make
Factory
the comedy find of the summer. Just don't let its opening scene drag you down. A supervisor named Ronald "Ron" McKenzie is fatally sucked into a pneumatic bander that first grabs onto his tie. From there it's quickly open season on his job, with pals Gary (Mitch Rouse), Gus (Jay Leggett), Smitty (David Pasquesi) and Chase (Michael Coleman) all in the running.
Rouse, who co-created Comedy Central's storied
Strangers With Candy
, works a double shift as
Factory
's behind-the-scenes mastermind and pivotal co-star. In the show's July 6th second episode, he manfully carries a good deal of the action after buying a used car for $2 grand from town shyster/sight gag Tovar Plotts (Mark Beltzman).
The thing immediately breaks down, of course, forcing Gary to push it all the way to work after Plotts says no deal to taking it back. His exhausted pantomime before his three buddies is comedy silver, if not gold.
Subplots abound. Smitty continues to live with his belittling ex-wife, Meg (Eliza Coyle), because he can't afford to rent a second place. His drab life seems to brighten a bit when Meg's stepdad's sister's daughter (Tracy Foley as Tracey) moves in with them.
Meanwhile, Gus keeps trying and failing to propose to the woman he's been dating for a dozen years. And the deceased Ronald's son, Don (Christopher Allen Nelson), desperately strives to be one of the guys.
He briefly gains entry by fixing Gary's lemon for $4 with the understanding that he'll also get to hang out with the show's not-so-fab foursome. Unfortunately, the repair job requires Gary to keep his smoke-belching, parts-rattling auto running at all times.
Factory
manages to invest its louts with at least a distant relative of dignity. It's crudely funny without being dirty to the touch. And in our current, seriously unfunny economy, at least these guys have jobs. Killer pneumatic banders and all.
Grade:
B+