12/31/11 01:11 PM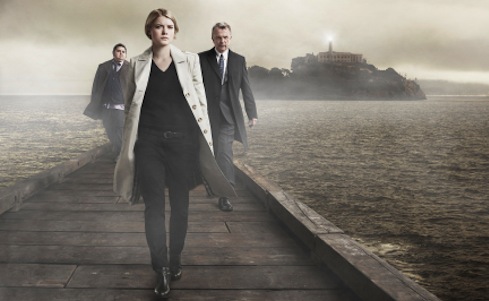 Alcatraz looms large again, and not just as a tourist trap. Fox photo
Premiering:
Monday, Jan. 16th at 7 p.m. (central) on Fox
Starring:
Sarah Jones, Jorge Garcia, Sam Neill, Robert Forster, Parminder Nagra, Jason Butler Harner, Jonny Coyne
Produced by:
J.J. Abrams, Jennifer Johnson, Daniel Pyne
By ED BARK
Alcatraz doesn't lack for tourists -- and probably never will. But they might have to commission a few more boats if Fox's same-named series becomes a prime-time mainstay.
Premiering Jan. 16th with back-to-back episodes (only the first hour was available for review as of this writing),
Alcatraz
is the latest serial string-along from creator/producer J.J. Abrams, the mind behind
Fringe, Lost
and
Alias
. And it looks as though it might well have legs, with at least two of them on the lam each week.
Here's the deal. Alcatraz last housed inmates on March 21, 1963, when it was closed because of rising costs and "decrepit facilities." Except that the last remaining 256 prisoners and 46 guards mysteriously vanished.
For the purposes of the first episode, they included inmate Jack Sylvane (guest star Jeffrey Pierce), who had some really rotten experiences on "The Rock" after being transferred there from Leavenworth (where he also got a bum deal).
In the opening "present day" sequence, a little girl tourist strays from her group and screams upon seeing a disheveled guy asleep on a cell floor. A tour guide simply tells him he has two minutes to get out before leaving him be. That's flatly preposterous. In real life, this vagrant would immediately be personally escorted off the island and then probably arrested. But in
Alcatraz
, the guy (who turns out to be Sylvane) leaves all by himself and then murders an old former Alcatraz warden who had made his life a living hell.
Meanwhile, detective Rebecca Madsen (Sarah Jones) is still in a funk after losing her partner three months ago. She blames herself for his death. And the bad guy they were chasing is still at large.
While on the scene of the Tiller murder, Rebecca runs afoul of government agent Emerson Hauser (a sinister-sounding Sam O'Neill), who orders her off the case.
"Thanks for being a dick about it," she rejoins. But Hauser of course has reasons for big-footing the investigation after claiming federal jurisdiction. He used to work at Alcatraz. And he knows something about all those missing persons.
The other principal character is Dr. Diego "Doc" Soto (Jorge Garcia from
Lost
), an expert on Alcatraz and the author of several books on this subject. Madsen consults him after learning that the fingerprints on the Tiller crime scene belonged to Sylvane. Why, that's impossible, he says. The guy died more than 30 years ago.
The pursuit of Sylvane twists and turns its way through the Bay area while flashbacks fill in some of the blanks of his prison life traumas. By the end of the first hour, Madsen and Soto have formed a tentative alliance with Hauser and his leather clad assistant, Lucy Banerjee (Parminder Nagra). Their bottom-line mission is to get to the bottom of what happened back in 1963. But Hauser's not telling all, of course. And the episode ends with a nice little jolt.
Abrams and his co-producers and writers are certain to proceed very deliberately in terms of unfolding
Alcatraz
's umpteen layers of "mythology." But they also have a self-contained mechanism in place, with each episode likely to result in the apprehension of another missing person from the prison's last days.
The pulling power is pretty strong for starters. Unfortunately, though, Al Capone wasn't among the last batch of Alcatraz inmates. He developed syphilis while incarcerated and was transferred from the famed lockup in early 1939. Then again, this is a J.J. Abrams series. So perhaps Big Al could do a little extra time-traveling during a "very special" ratings sweeps episode of
Alcatraz
.
For now, though, this is a series that's seemingly built on an arresting foundation. And with a total of 302 prisoners and guards unaccounted for (before subtracting Sylvane), there's no imminent danger of running out of supplies.
GRADE:
B