05/30/07 11:51 AM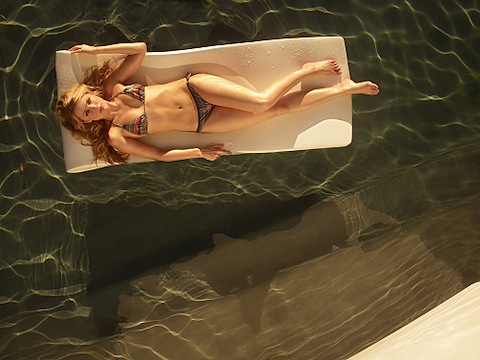 Austin's Amber Heard doesn't have to do much to get noticed in Hidden Palms, a new CW series from the creator of Dawson's Creek.
Premiering:
Wednesday, May 30 at 7 p.m. (central) on The CW.
Starring:
Taylor Handley, Amber Heard, Sharon Lawrence, Gail O'Grady, Michael Cassidy, Ellary Porterfield, D.W. Moffett, Leslie Jordon, Tessa Thompson.
Created by
: Kevin Williamson
By ED BARK
A wealth of redheads and dirty blondes populate richly appointed Palm Springs in The CW's latest haven for hotties.
One of the young and restless cast members even goes from redhead to dirty blonde between Episodes 1 and 2. That's called character development on the part of sultry, but "enigmatic" Greta Matthews (Austin native Amber Heard).
Hidden Palms
is the show and it's been on the shelf for a while. A scheduled eight-episode run finally begins Wednesday (May 30th), with new episodes of the un-killable
One Tree Hill
following for the next three weeks.
HP
's maestro is Kevin Williams, who virtually put the now defunct WB network on the prime-time map with the January 1998 birth of
Dawson's Creek
. He spends a lot of time at the pool in this one, with fish-out-of-water Johnny Miller (Taylor Handley) as his sensitive Dawson Leery.
The series begins with Johnny's dad in a drunken stupor. He tells the kid to forget about "that math crap" and be more creative. Then he blows his brains out before we re-meet Johnny a year later in Palm Springs.
Traumatized into a drug and booze addiction, he's been in rehab for much of the interim. And he's none too happy about mom Karen's (Gail O'Grady) decision to marry the really rich Bob Hardy (D.W. Moffett).
"I want this to work, honey -- for both of us. I'm tired of hard, Johnny," she explains in dialogue that might prompt all sorts of mental gymnastics among impressionable viewers in CW's 18-to-34-year-old target audience.
It's not clear exactly what Bob does for a living. But no one seems to do much, leaving ample time to loll by the country club pool, throw splashy parties or wade into the deep waters of angst and mysterious computer messages. This is a lot to handle for 16-year-old Johnny, even if the actor playing him will be a ripened 23 on Friday.
It's easy to compare
HP
to Fox's recently canceled
The O.C.
when not comparing it to
Dawson's Creek
. In fact, three of the young leads -- Handley, Heard and Michael Cassidy -- had either recurring or guest star shots on
The O.C.
.
Handley, although already looking too old for
HP
, does bring an at times appealing presence to the show's meatiest role. He's got an attitude, but a well-earned one. And like Dawson, he enjoys looking through a camera lens and ruminating in his bedroom. At the close of Wednesday's premiere, Johnny's got a hold on Pablo Neruda's
20 Love Poems and a Song of Despair
.
There's mystery afoot, too. An unseen Palm Springs denizen named Eddie killed himself a while back, with both Greta and Johnny's dog-kicking neighbor, Cliff Wiatt (Cassidy), trying to keep it on the down low. It keeps burbling up anyway, of course, especially when Johnny later learns that Eddie offed himself in the same bedroom where he's been reading poetry.
Creator Williamson also deploys Sharon Lawrence in her now familiar turn as an aging tart who craves both plastic surgery and younger men. And newcomer Ellary Porterfeld plays introverted chemistry whiz Liza Witter, who'd like to experiment with Johnny.
Alas, he's far more entranced for now with Greta, who runs fetchingly through golf course sprinklers, sunbathes whenever she can and snitches Johnny's camera before later telling him, "I hope you don't mind, but I got creative with your outlet."
It's all heavily buttered with a constant pop music soundtrack, as was
Dawson's Creek
.
In this case, though, all that recycling isn't particularly good for the prime-time environment.
Grade:
C