10/06/09 10:16 AM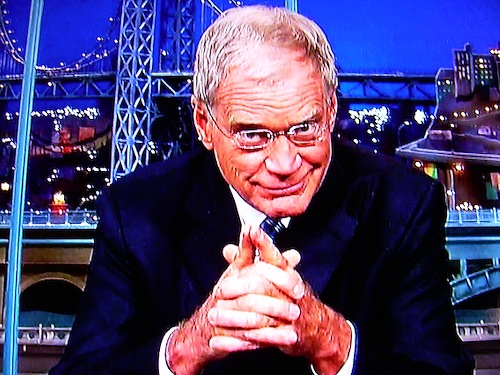 Let me tell ya, folks, I got my work cut out for me." Photos: Ed Bark
By ED BARK
In the annals of eventful Monday nights, this one towered above most.
We're talking about the drama/comedy unfolding through plate glass screens. You know, that old thing they're still calling television.
What, for instance, would David Letterman say -- if anything -- about the tongue-wagging
sex scandal
he revealed to his
Late Show
audience last Thursday?
It turned out he said a lot, while also giving audiences another up-close look at how insular, out of touch or flat-out disingenuous he can be.
Letterman began with a deftly crafted monologue that both twitted his personal travails and addressed the ticklish business of telling sex jokes at the expense of others. First, though, he received a prolonged, loud ovation from his studio audience. America apparently loves its philandering late night talk show hosts.
"I got in the car this morning and the navigation lady wasn't speakin' to me," Letterman cracked.
And yeah, "things are still pretty bad. There's a possibility that I'll be the first talk show host impeached."
Letterman said he spent "the whole weekend raking up my hate mail." And boy, it was "chilly outside my house, chilly
INSIDE
my house," where wife Regina Lasko and the couple's nearly six-year-old son, Harry, still reside for now.
Bandleader Paul Shaffer frequently chortled, his laughter massaging Letterman's punch lines in the manner of a three-year-old licking an ice cream cone. The boss then segued to his masterstroke. "OK, let's look at the news. First of all, Bill Clinton . . ."
Letterman's voice trailed off -- the first of three intentional false starts. References to Mark Sanford and Eliot Spitzer likewise were left dangling. The host is now a fellow philanderer, leaving him impotent for at least the short term on this staple topic of late night comedians. For comparison purposes, think of the late Sen. Ted Kennedy during the Clarence Thomas hearings. He could hardly weigh in on the Supreme Court nominee's alleged sexual misconduct when he had been so recently embroiled himself.
Letterman said he's only in Phase 1 of coming to grips with what he did. "Phase 2, next week, I go on
Oprah
and sob."
She'd no doubt be thrilled to have him. Meanwhile, Letterman saved his serious business for behind-the-desk. And here's where it got very hard to believe.
"It did not occur to me," he said, that reporters "would start hounding the staff" after he told the world of a $2 million extortion plot tied to his admitted sexual dalliances with several women who had worked for him or, in the case of
Stephanie Birkitt
, are still
Late Show
employees.
"No, I'm not having sex with these women. Those episodes are in the past," Letterman clarified. "My apologies for subjecting them to that vulnerability and being browbeaten and humiliated. It never occurred to me" that this would happen.
Wow. Wasn't that one of the first questions on just about everyone's mind when Letterman went public? But it "never occurred" to him that reporters of all stripes, from TMZ to
The New York Times
, would be instantly on the scent. That's patently impossible to believe, even coming from a guy who basically lives like a hermit off-camera.
Letterman then got around to talking about his longtime companion and wife since March. Regina Lasko, also the mother of his son, "has been horribly hurt by my behavior," he said. The next step is to either work things out or perhaps fail to do so, he said. "Let me tell ya, folks, I got my work cut out for me."
His decision to go to authorities resulted in the arrest last week of veteran
48 Hours
producer Robert J. "Joe" Halderman on attempted grand larceny charges. Halderman's lawyer says there's much more to this story, and that he looks forward to cross-examining Letterman if indeed this matter ever comes to trial. Questions about sexual harassment in the workplace no doubt would be paramount.
"Through all of the heartache and the attention and the embarrassment, I still feel like I did the right thing," Letterman told his audience Monday. He then couldn't resist re-apologizing to Sarah Palin. Always leave 'em laughing if you can.
Still, Monday's performance only served to raise more questions about the moral compass and overall equilibrium of a 62-year-old man who professed to be surprised that anyone would be interested in which
Late Show
staffers had sex with him -- and when. Where has he been during all these years in the public eye?
On Monday, an often very funny Letterman also walked a razor-thin line between being self-serving and clueless. Neither becomes him, but
Late Show
's lately soaring ratings don't care one way or the other.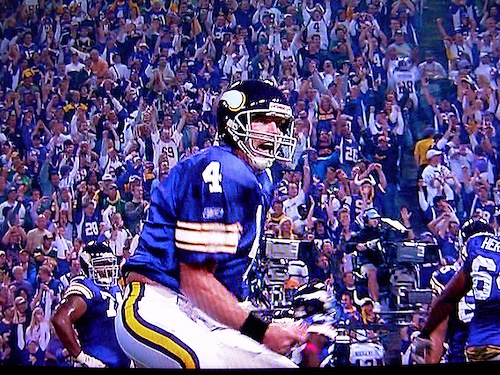 Brett Favre exults after throwing a TD pass against his old mates.
Dallas Cowboys fans are still bemoaning Sunday's loss to the Denver Broncos. But hey, that was nothing. For Wisconsin natives and lifelong Green Bay Packer fans -- guilty as charged -- Monday's loss to the Brett Favre-led Minnesota Vikings was tougher to swallow than week-old Limburger left to rot at room temperature.
It all unfolded before the nation at large on ESPN's
Monday Night Football
, whose commentators canonized Favre from start-to-finish of a not-that-close 30-23 Packer defeat.
Favre, who turns 40 on October 10th, showed that he can still sling it. Of course it helps when you're facing absolutely no pass rush and have the NFL's best running back in Adrian Peterson.
Meanwhile, the heir to Favre's Packer throne, Aaron Rodgers, ran for his life all night long and still managed to pile up 384 yards passing. But the usually interception-prone Favre stayed free of turnovers while Rodgers had both an interception and a fumble.
Green Bay obviously made the right choice in anointing Rodgers last season after Favre retired and unretired twice before taking a consolation job with the New York Jets enroute to the Vikes. Rodgers is going to be one of the NFL's elite QBs provided he can survive an offensive line that keeps stinking aplenty.
Still, seeing Favre in Minnesota purple remained surreal throughout the night. He clearly harbored a grudge against his old team, and played as the occasion demanded. Several of his pinpoint laser passes were the stuff of old, prompting ESPN's gang of three in the booth to rhapsodize time and again.
A rematch in Lambeau is coming on Nov. 1st. Maybe the old man'll be a bit more worse for wear by then. But so will Rodgers if this keeps up. I was hoping for some Brett-worst Monday night. Instead he made us choke on our bratwursts. I know, I know, it's only a game, not life or death. But damn you, Brett. Why couldn't you have played like Tony Romo?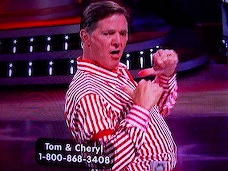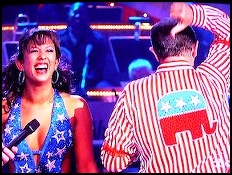 Tom Delay goes gonzo Republican on two fractured feet.
Monday night's other live drama starred "super trouper" Tom DeLay and his two stress-fractured feet.
Doctors and the producers of ABC's
Dancing with the Stars
supposedly told the former House Majority leader to bow out rather than inflict his samba on the viewing public and more pain on himself. But, as he said during the taped rehearsal segment, "My father drilled into me as a kid, 'Never give up.' "
Before DeLay prepared to dance live, host Tom Bergeron wondered why he was intent on still experiencing the agony of the feet.
"What's a little pain when you can party?" he retorted before eventually emerging with a lowly but hard-won 15 score from the show's three judges.
That was a moral victory for DeLay and his pro partner, two-time champ Cheryl Burke. The night's only lower score, a 14, was awarded to former Dallas Cowboys star Michael Irvin, who also did the samba.
One of the two stands a good chance of being voted off during Tuesday's results show. But you never know. DeLay, still awaiting trial on charges of money-laundering and violating state campaign finance laws, made a lot of enemies during his congressional tenure as "The Hammer."
Watching him grimace in pain no doubt has a certain entertainment value for those who love to loathe him. Irvin badly needs a sympathy vote, though. Being punched out before DeLay would be tough to live down. How can you criticize the current-day Cowboys on your
ESPN radio show
if you can't beat a paunchy 62-year-old with a pair of fractured feet?